I wanted to write this page all professional-like in the third person, but that's just not me. So you get it all impersonal and friendly-like. Enjoy.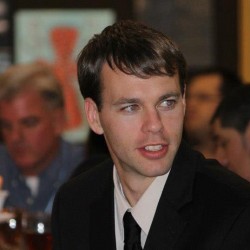 My name is Ben Eubanks, and I'm a human resources professional, speaker, and blogger (obviously!) from Huntsville, AL. I love what I do, and I try to pass a bit of that spark onto everyone around me. Some of the questions I'm often asked are below. If anything's missing that you're curious about, just send me an email.
Why HR?
I've been around businesses since I was a child. My parents own a small company, and they have always had issues with hiring, retention, and compensation. I just thought those types of issues were ubiquitous. When I got to college (planning to major in management), one of my professors assigned me a paper on HR. When I started researching, I realized that there really was a field out there that dealt with the issues I witnessed for years. Up until that point, I had never worked in a company large enough to have an HR department! I picked HR management as my major and never looked back.
What qualifies you to talk about HR?
I received my B.S. in human resources management in 2008, and I successfully completed the Professional in Human Resources HR certification exam in early 2009.
To be honest, that doesn't qualify me in the slightest. What really qualifies me to talk on this stuff is the fact that I truly enjoy what I do and want to see others be successful in their own HR/recruiting/leadership roles. That desire, plus the constant my-head-is-on-fire-from-all-these-crazy-one-person-HR-department tasks, keeps me on my toes. Like many of you, I do this stuff every day.
What do you do?
I work as an HR Analyst for Brandon Hall Group. We are a research and advisory services firm supporting some of the best companies int he world. I also get to interact with vendors and solution providers on a daily basis, which is a lot of fun. Find out more about what I do and connect with me on LinkedIn here.
What "else" do you do?
I cofounded and help run an unconference for HR and business leaders. I'm a speaker. Plus, my amazing wife and I have twin girls and a little boy. How cool is that? I enjoy running, reading, and writing.