Thanks for dropping by! (insert awkward pause) So, what now?
A little about me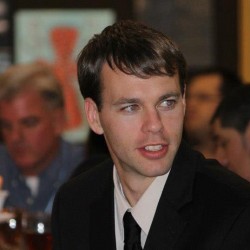 I have been blogging for over three years, and I enjoy writing on HR, leadership, and humorous topics (like zombies and pirates). I got started with this gig when I realized that out of all the voices in the HR blogging world, there was nobody representing the young or entry level HR pro. So I leapt in. Since then, I've built a community, written an eBook on HR certification, and co-founded an HR unconference. Now I'm further into my career and don't represent an entry level person as much, but I still have a special place in my heart for those just getting started!
A few posts to wet your whistle
I post on a lot of different topics, and I even have the courage (or lack of sanity) to throw out a video once in a while. Here is a sampling you may find interesting:
So, what do I need from you?
If you like what you see, I'd love it if you would subscribe for free updates. There are two options on that front.
Free email updates
Free RSS updates
The only other thing I ask is that you drop a comment now and again. I wouldn't dream of asking for one on every post, but if one hits you the right way and you'd like to respond, it's very easy to do so at the end of every post. And if you'd like to get that personal touch, I'm always available to chat via email. Hope to see you again soon!