One of the things that I have grown to appreciate over the past few years is marketing. One of the first things I wrote on the topic was actually around what Chief Marketing Officers can teach Chief HR Officers. There is quite a bit of activity that goes on in the marketing department that we should all appreciate. From tailoring your approach to your audience to relentlessly testing your campaigns, there are some great insights in how they operate. Today we're going to specifically talk about split testing.
The easiest way to explain split testing is this: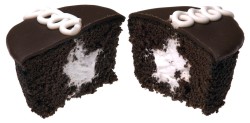 Let's say I walk up to you and hold out a piece of cake wordlessly. When the next person comes by, I hold out the same type of cake in the same way, but I smile and say, "Hello!" cheerfully.
That's a split test, or A/B test. The point is to make every element of the scenario the same except for a single item that you're explicitly testing—in this case, the greeting. Over the course of multiple tests (dozens or more, not just two or three apiece) you learn how that item affects the outcome of the experiment. Then you do it again but with another element being the item tested. Continue reading →