At a recent event I had the chance to speak with several HR leaders about their challenges, issues, and problems. Inevitably when I would ask them how they planned to follow up or dig into the issues, they mentioned the same thing: an employee survey.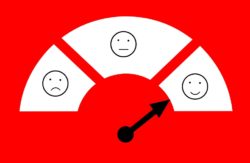 But is that the right avenue for gathering information? Are there times when surveys might not be the best way to gather intelligence on what's happening in the business?
Limitations of Surveys and Survey Alternatives
When you're gathering data from people, surveys are one of the most cost-effective methods for getting a lot of responses from a lot of people in a relatively short time. But there are a couple of issues with surveys. The first is response bias. This concept simply means people respond differently to questions than they might otherwise. Answers may be skewed purposefully to make the responder feel better. Alternatively, responses may be skewed if the person perceives the question differently than another individual. For example, how would you respond to this question?
On a scale from one to five, how happy are you at work? Continue reading →