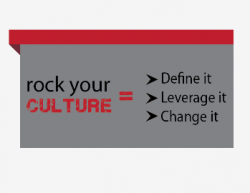 Studies show that a strong corporate culture can lead to increased employee engagement, higher profits, and a larger market share. Now, how do you get from "that sounds interesting" to "that sounds like my company?" Check out these comments I've heard recently from HR professionals and business leaders who wonder the same thing:
I really think corporate culture is a great tool, but I don't know how to define it.
We know what our culture is, but I'm not sure how we can leverage it for success.
Our culture is a problem. We need to change it, but how can that be accomplished?
I've worked on the Rock Your Corporate Culture guide for quite a while in order to answer questions like these. Despite companies and leaders giving lip service to culture in recent years, most people still don't know much about the inner workings of it. I got tired of seeing people talk about culture like it's something they can't impact or control.
What it's all about
In the Rock Your Corporate Culture guide you'll find three main parts (as well as some sweet bonuses that I call out below):
How to define it
How to leverage it
How to change it
Within each of these sections I provide tangible, useful steps for working through these key areas. Again, this isn't a "pie in the sky" type of wish list. It's a how-to manual for making sure your culture aligns with your business to achieve the levels of profit and engagement other organizations only dream of.
Plus I'm piling on the goodies (see below).

The cherries on top
But, as usual, I'm not content with handing you a guide and leaving you to flounder without direction. I'm also packaging these bonuses with the guide to give you a fighting chance at leveraging your culture for success:
3 powerful worksheets to help you get started in a methodical, step-by-step manner

Worksheet #1-Defining your workplace culture
Worksheet #2-Mapping your future
Worksheet #3-10 ways to share your culture at work

45 minutes of Q&A video all focusing on problems and questions others have regarding culture

Includes four 10-12 minute videos where I respond to questions submitted by the audience
Rewatch videos as often as you like from any YouTube-accessible computer or mobile device
Click here to get your own copy of
the Rock Your Corporate Culture guide today