Check out the HRCP review below!
HR certification is a topic that I care deeply for. I got started online by writing about studying for the PHR exam in a weekly article series. I never dreamed it would become as popular as it did! For those of you that followed my journey, you know that I didn't use any software to prepare. However, I get requests on a daily basis for recommendations on what people should use to prepare for the HR certification exam. I have finally made my choice. And for those that are looking for a separate guide to help super charge their studies and assist with the entire certification process, then I encourage you to check out the Self Study Course.
Read the HRCP review below to find out how you can get a discount on your HR certification study materials through HRCP.
What do I recommend?
After reviewing the SHRM Learning System, I saw that was a great product, but the price knocks many people out of buying a copy. Plus, there's no guarantee that you will pass the HR certification exam, even after spending $800+. Risky. Expensive. Not my kind of thing. And there's no such thing as a SHRM Learning System discount code. I then tested the HRCP (Human Resources Certification Preparation) materials, and I was amazed at the difference. Here are a few of my observations during my HRCP review:
600+ flashcards are great for studying on the go or getting help from a partner.
Spiral-bound study books are full of probing questions to get you into the "exam mindset" I've mentioned previously.
Includes 400+ practice questions.
Provides a special guide for those that choose the self-study route.
Covers the

exact same topics

as the SHRM system.
At only $345, it's much less of an upfront cost.
For only $29, you can take a 100-question practice test (HRCI practice exams cost $35 each for a packet of 2).
Unlike the HRCI exams, you actually

see the correct answers

afterward, and you can learn from your mistakes.
HRCP also offers a 20 question exam

free of charge

.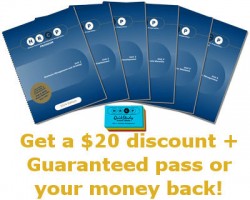 Not too shabby. Here's how you can make a good thing even better. The following coupon codes, entered at checkout, will earn you a $20 discount on the purchase price.
UPSTART18P is for the Complete

HRCP

Program: Print Edition
UPSTART18E is for the Complete

HRCP

Program: Print AND Online Edition
If you are going to be preparing to take either HR certification exam soon, then I would definitely go with the HRCP materials. And that, my friends, is my professional opinion.
Just to be upfront about things, I do get a commission from any purchase you use with my HRCP discount code. Hey, know what? It's up to you. You're an adult. But if I was starting over on the HR certification route, I know who I would choose, and the HRCP discount code doesn't hurt, either.
Here's a video of me unboxing a set of HRCP materials
Human Resources Certification Preparation
Reviewed by Ben Eubanks on
.
Best HR certification study tool on the market
The HRCP tool is the best tool I've seen on the market for PHR/SPHR exam prep. The affordable cost, friendly service, and additional features make this one a no-brainer.
Rating: 5