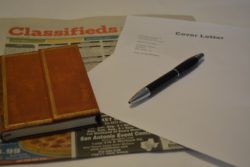 Whether it's your first job or your passion to get into a new career that bodes well with your goals and ambitions, you will soon be thinking about how easily you can make things happen. Well, many people around you are doing the same. Everyone is trying to get their grip onto the few golden opportunities that the current job market has to offer. Play your cards well and bring the prize home. First, is a resume crafted to reflect your skills, and attached cover letters specifically linking you're your qualifications to the hiring criteria. CraftResume will expose you to the best resume skills.
We give you a comprehensive guide to beat the odds and land your dream job below:
Tap Your Network
Networking does not stop at creating your profile on networking sites. Make these accounts count by using them to get in touch with the right people. Your contacts will push your profile to the grid or get you in touch with the right people.
Utilize the networking opportunities for alumni in your institution or a professional organization if you belong to any.
There are always a few job opportunities within your existing network that probably match your skills, but the people who can lead these opportunities your way haven't just thought about you.
Job Fairs
Job fairs will often come with hiring opportunities. Majority of these job fairs will have a listing of the participating companies. Check for companies which interest you and find out whether there are any forthcoming positions.
Have a networking card with your name, phone number, email, and your website or LinkedIn account if any
Prepare a few questions for the potential recruiters- a display of passion and preparedness about the job they offer and the interest in their company.
Watch your clothing style. A power outfit exudes professionalism and boosts your confidence.
Personal pitch and eye contact. These are important for your first impression. Â 
Leverage on Job Search Tools and Apps
A variety of apps, gadgets, widgets, and tools exist to help you expedite your job hunt. Use them to develop an organised and timely job search. You effect many search activities using your smartphone or tablet while working with these tools.
Along the job search tools is your strong presence on social media. Identify yourself by your real names on social media and monitor your professionalism across all the platforms.
Audit your account getting rid of inappropriate posts or images and focus on building your brand.
LinkedIn is Mainly the Tool to Go For
LinkedIn is probably the best tool to get yourself on the job market grid. Let your LinkedIn profile communicate a clear focus. You stand a chance to get noticed by recruits who use LinkedIn to source for qualified candidates.
A generic LinkedIn Profile will not rank high in the search results.
The following information marks a focused LinkedIn Profile:
A clear professional headline

A target geography

A listing of skills and accomplishments

Attached documents and links demonstrating work experience

Projects previously completed

Degrees certification, coursework

Other relevant skills backed with an endorsement from colleagues.

Recommendations

And daily sharing of LinkedIn Updates
You will find sections dedicated to individual pieces of information described above.
A Step into Your Dreams.
Yes. You have it all in your camp. An up-to-date resume. A tapped network. Connectivity tools. Job fairs. And your LinkedIn Profile.
You're a little patience away. Â But you don't have to sit back and wait. Keep your search focused. Use the job search engines to browse for more jobs available and pitch your tent in every job opportunity that deems fit. Make a follow-up on every interview attended, the job fairs and event you go to. Appreciate the people you meet. Underscore your candidature with quick thank you emails to your interviewer, and reiterate your interest in the position. Let the hiring manager see the excellent candidate in you.