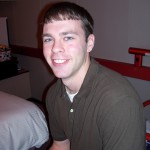 Hey! Welcome. It's good to have you here. First, a little bit about me (here's the long version).
I've been in HR for just over a year and I love it.
My day job is at a nonprofit organization in Huntsville, AL.
I started this blog when I first got into HR as a way to grow professionally, and it's definitely worked well in that respect.
I love being funny and having fun (big confession there). :-)
Here's the good stuff:
The rest of the background info and other relevant stuff is below if you're interested in hearing the whole story!
The journey
This little adventure all started back in January 2010. I wrote a post talking about how the national SHRM conference was too expensive and that other events could supplant its power in the HR space. Then I got a challenge from Eric Winegardner of Monster. The gist of it? Put up or shut up.
So after some thought, I agreed to come to the event to see what it's like and to tell others about my experiences. That's what this is all about. There's a little more, but I tend to ramble, so we'll move along.
Follow me during the SHRM 2010 conference
If you want to see what's going on, just click here to follow my updates. I plan on turning this project into a free eBook somewhere down the line, so if you want to stay current on the news feed and find out when it's coming, just click here to get free email updates.
My butt-kicking partners
I get to do some fun stuff while I'm at the event, but the best part is teaming with Monster and Smartbrief on Workforce. Eric and Mary Ellen are amazing people and if you're not paying attention to them, then you're missing out.
Contact me
Want to reach out to me? I'd love to meet you if you're in town. I'm on Twitter (@beneubanks) and usually available via email. Let's connect!