First time here? Thanks for dropping by! (insert awkward pause) So, what now?
A little about me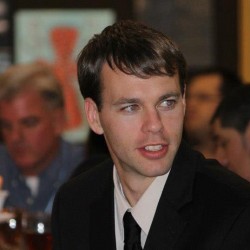 I have been blogging for over five years, and I enjoy writing on HR, leadership, culture, and humorous topics (this job is tough enough without the laughs, right?). I started writing because I wanted to help make the HR profession better, one HR pro at a time. Since then, I've built a community of over 1,000 20,000 monthly readers, written over a dozen eBooks, and co-founded an HR unconference. More about Ben Eubanks, if you're interested.
And now, by virtue of reading this, you've joined the community. Let me just say: welcome!
A few posts to wet your whistle
I post on a lot of different topics, and I enjoy sharing video blogs once in a while. Here is a sampling you may find interesting:
So, what do I need from you?
If you like what you see, I'd love it if you would subscribe for free updates. There are two options on that front.
Free email updates
Free RSS updates
The only other thing I ask is that you drop a comment now and again. I wouldn't dream of asking for one on every post, but if one hits you the right way and you'd like to respond, it's very easy to do so at the end of every post. And if you'd like to get that personal touch, I'm always available to chat via email. Hope to see you again soon!
My mission
upstartHR was created as a resource for "in the trenches" HR professionals to grow in their craft and remain passionate about the HR field.
My goal for upstartHR is to become a place for new human resources professionals to learn about the profession from someone who is doing the same. It's a place for:
Experienced pros to see old ideas in a new light
Finding a kindred spirit who's fighting the same battles
Advancing in your HR career to new heights
I cover many topics on upstartHR, including book reviews (leadership, management, recruiting, HR, etc.), best practices, what it's like running and working in a small HR department, recruiting tips and techniques, innovative ideas, and more. I'm also a big proponent of HR certification and have developed resources and tools (some free, some not) that practitioners can use to prepare for, and pass, the PHR and SPHR exams.
Together, we can push HR to its rightful place as a strategic business leader.
When I started writing, my fiery passion attracted many followers who had been in the profession for some time but had lost their "spark." I still write with the intent to challenge others to never be content with their own level of success. I truly believe we should all be learning and growing daily, and if we want to remain competitive and innovative, we must cultivate a sense of continuous personal development. I have created several free PDF guides and tools to help my audience run a smarter, stronger HR team.
If you're interested in contacting me with a question/comment/request, I would love to hear from you. Shoot me an email, and I will get back to you as soon as possible. Due to a large volume of email I can't always respond to every request in a timely manner.