Welcome to the Entry Level HR Jobs Ultimate Guide! Feel free to share this post on Facebook, Twitter, via email, or by renting a plane to carry a banner proclaiming how much you love this guide. If you're not already on the email list to receive free updates, here's how you can do that. Now, let's get on to the content!
Entry Level HR Jobs
Places to find jobs
Job descriptions
Salary Ranges
Tips from the Pros
Career Resources
Entry Level HR Jobs-Cliff's Notes Version
1) Places to Find Entry Level HR Jobs
If you have paid any attention to the job market in the past few years, you know that a large portion of job openings are either never posted or are filled via word of mouth referral. If you are looking for a position in HR, it's critical that you take the time to network with people in the profession.
So, where can you find the entry level HR positions?
Local SHRM chapters often list local openings in HR/recruiting
Honestly you can use any job board, but I use Indeed.com since they aggregate from most other boards and are easy to navigate
If you are in a student SHRM chapter, ask about an internship program or a way to network with local HR pros
And searching just for "entry level HR jobs" might not find the jobs you are targeting. You will need to search for specific job titles, such as hr assistant, hr clerk, hr administrative assistant, hr intern, junior hr representative, payroll assistant, etc. type jobs.
According to the government statistics, there were 157,000 HR Assistant-level positions in the US in 2010 and positions were expected to grow 10-20% by 2020.
2) Entry Level HR Jobs-Job Descriptions
I'll go ahead and scrape off the pretty colors and be honest with you–the basic duties for an entry level HR job are fairly simple: do what nobody else in the department wants to do. Sometimes you'll have a great manager who works with you to give you more challenging tasks to grow in your career. Sometimes you get one who wants you to sit in your cube and just do what you're told. I've had both, and they both have their own challenges.
So what does a common entry level HR job description look like?
Prescreens job applicants
Maintains personnel records
Provides support in filing documentation and tracking paperwork
Completes new hire orientation with staff
Compensation and benefits recordkeeping support
Explains company policies and rules to staff and applicants
Process employee benefits changes
Here are a few samples from other sites to check out: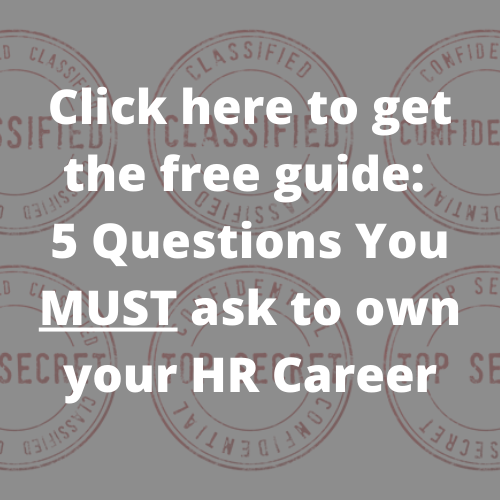 3) Entry Level HR Jobs-Salary Range
Let's be honest. HR pros are not software engineers or brain surgeons. We don't walk out of college and start making $60-100k right off the bat. There's certainly the option to grow into a $100+k position as an HR professional later in your career if you desire that level of responsibility, but the starting pay is not quite that high.
In the chart to the right, you'll see the average starting salaries for assistant-level entry level HR jobs. To be honest, I actually started below the 10th percentile mark when I took my first HR position, but I knew that I had to get my foot in the door or I would never be able to advance to a higher position.
This varies widely depending on your geographic location, your experience, education, industry, etc., so these figures are not set in stone. The point here is to demonstrate the general starting point for an HR career.
From my conversations with others, starting in the high 20k, low 30k range is fairly common. And the concepts in the next two sections will help you to get those numbers up even higher.
4) Entry Level HR Jobs-Career Resources
I laugh looking back at it now, but when I was in college, I would email random HR people if I could find their email address. I'd send them a short list of questions asking what their job was like, what their duties consisted of in the average day, what sort of education they had, etc. It was very eye-opening, and I learned much just from the relatively few people I connected with.
I took that sense of connection and hunger for growth, and now I'm using this platform to share things I've learned from other professionals in the field. I wrote a series of posts called the "HRYP" series, which stands for "HR Young Professional." I did some research on the most common issues that young HR pros faced, and I created content to address those top three concerns. It was a valuable tool for my own development, and I still get people who contact me after putting some of the ideas into action. If you are serious about growing in your HR career, you need to read the entire series:
If you take the time to read through the series and take notes on how you can improve your own career, I would put you in the top 20% of entry level HR professionals. Why? Because many don't want to do the work necessary to be excellent.
Break the mold. Be excellent.
5) Entry Level HR Jobs-Career Tips from the Pros
I am certainly not the world expert on this stuff, so I reached out to some people in my network to find out what sort of advice they had for entry level HR professionals. I was blown away by the responses, and I hope you take the time to read each and every comment. My advice would be to print out this guide or at least the comments below, because this stuff is golden.
These are people who have been there, done that, and got the t-shirt. They have already been right where you are, and they are now successful managers, VPs, Directors, etc.
Want to follow in their footsteps? Read on.
———-
As someone who has had countless entry level HR pros on my team, my advice is to take a HR topic you think you are least interested in and spend as much time as possible learning about it. It goes against the grain to approach it this way but I've found that in my career, some of the areas I perceived as "the worst" turned out to be the ones I like the best. Surround yourself in learning: talk to someone who does that as a primary role, read online, sit in on webinars and listen to podcasts about the topic. Trish McFarlane
———-
Get connected! Be active in your local SHRM group and connect with other HR professionals! Find a mentor and utilize the heck out of them! Kristina Minyard @HRecruit
———-
1). Never take an action that compromises your integrity. Stand up for what you know is just, fair and ethical. Always.
2). Your HR knowledge must be an ongoing evolution. Continue to learn and grow and never be content with what you've achieved at the moment.
3). Form as many solid relationships (both up and down the ladder) as you can. Treat all people with respect and learn to be a strong listener. This will be more valuable that most anything you do. Angela Dunaway
———-
1. Never let your boss be surprised by an issue. There is a fine line in under/over communicating, so work this out with your boss from day one. Once this is established your boss will trust you to keep him/her apprised of important issues to avoid being blindsided by others. One way it was explained to me if you are emailing someone who is at the same level or above your boss, be sure to CC your boss on the email, it sounds old school but it seems to work.
2. In HR we are at times policy driven. Policies change and sometimes our minds simply cannot keep up with all the changes. Therefore, if someone asks you how many days of bereavement leave they receive, assist them in looking at the policy. Don't just tell them, Look up the policy and leave me alone. Tell them, "I think it is three days, but we can look at the policy to be sure." I have seen more issues out of people answering questions without referring to the proper source. Even better, it reinforces to the employees to look at the policies themselves which may reduce the amount of redundant questions you are asked! Bobbi Wilson
———-
Don't be lulled into believing your education ends with your degree. Your education is just beginning. No one HR gig will expose you to the full realm of HR so study for your Professional in Human Resources (PHR) certification from the Human Resources Certification Institute (HRCI) as soon as you are eligible to understand the full context within which you are operating. In HR From the Outside In, the authors note, "The domain in which HR tends to be the weakest is in understanding and applying technology to build HR efficiency, to leverage social networking, and to manage the flow of strategic information." Dig into HR technology and be the advocate and educator for your organization. Lisa Rosendahl
———-
If you're in this profession to make friends, resign now. Being a good HR professional is not about being popular, getting people to like you, etc. It's about ensuring the right thing, the ethical thing, the 'just' thing is done. Period. Resignations are welcomed if you can't commit…we'll be happy to find you another job.
Immediately start learning what your company does and what it plans to do in the future. You're nearly useless if you don't commit to this.
Be indispensable, not dispensable. Immediately start walking around and introducing yourself to employees and managers. If they don't know you, they won't use you, and if they don't use you, you are worthless to them.
Immediately do what you say you are going to do…or at least be honest when you can't. This builds trust. If your customers don't trust you, they won't use you, and if they don't use you, you are worthless to them.
Put a smile on your face without getting goofy about it (save goofy for later). Smiles typically are inviting and therefore, you will appear approachable. If you're not appearing approachable, people won't use you, and if they don't use you, you are worthless to them.
Immediately ask for a mentor. This doesn't have to be a formalized arrangement…it can be someone who is willing to tell you 'why' or 'how' or 'when' etc. and it doesn't have to be in HR program! Ask your new supervisor for help in identifying possible mentors in Ops, Marketing, Finance, etc.
If you are not committed to helping others, to being objective, to not passing judgement, and to forgiving people who make mistakes, offend you, etc., resign now. You're not cut out for this job and you will only make matters worse.
If you are not committed to punctuality, nearly perfect attendance, hard work, met deadlines, going above and beyond, etc., resign now. Your job will be to facilitate activities to encourage these things and/or help facilitate discipline when they do not occur. The proverbial 'clean your closet before you clean out others' applies in full!
In all this… It's not about ?ing HR, it's about respecting the profession and until our incoming HR folks realize that, our profession will never advance.
———
Embrace Curiosity! Successful HR professionals pay attention to (and want to understand!) not only the world within their organization but also the world outside. It is critical to pay attention to issues in the arenas of politics, the economy, society and technology. Explore new ideas, learn about new things, contemplate what they mean and take action! Robin Schooling
———
When handling HR for your organization be aware that in addition to federal employment laws you must always consider state and local laws and regulations as well. Some counties for example, Cook County, in Chicago have their own laws as well. With all this there are some employment laws/regulations that cover your employees where they live versus where they work. So check out other states when you live on or near the border. Same advice goes for sending employees out of the country to work as well. Donna Rogers
———-
Conclusion
I hope you realize by now that it's possible to get that entry level HR job that you are targeting. It's possible to be successful. There really is room in this profession for more people who want to make the business world a better place. Now it's your turn to take action and make it happen! If you're looking for additional help, click to learn more about how to get into human resources.