Christmas is on the horizon, and I hope you have already started your shopping! If not, don't lose hope. I have just the thing for you to get for that semi-geeky human resources person in your life. If you're anything like me, you probably do at least part of your shopping online. It's quick and easy, and if you hit that magical $25 mark at Amazon, you will get free shipping! Below in all their glory and splendor (hallelujah!) you will find five Christmas gift ideas for HR professionals.
Note: As of this post date, all prices are correct.


SanDisk Cruzer Micro 8GB USB 2.0 Flash drive $14
Use a computer much? If so, you have seen how handy a flash drive can be. Whether you're moving files, transporting data, or backing up your computer, it's hard to beat a thumb drive for portability and simplicity. I can still remember using the floppy disks that held a tiny bit of information on them. Don't make the HR person in your life rely on those. Get 'em a snazzy USB drive!

Apple iPod Touch 32GB $268
When the giant iPods started coming out, I laughed at the people who rushed to buy them. I couldn't ever see myself holding thousands and thousands of songs on my iPod. But when they started holding photo and video data, I stopped laughing and started looking for the perfect iPod for me. And I'm a sucker for its Web surfing feature. If you've been trying to decide which iPod to get for someone in your family, I think you should take a look at this one. It is the newest model and is sure to be a bestseller this Christmas.

Cyber Acoustics Portable iPod Docking Station $41
Already have your iPod? You know how great it is to have music at your fingertips all through the day. But sometimes you want to make a little noise. Maybe it's not safe to have the earbuds in at a certain time, or maybe you want to share the music that you enjoy with someone else. That's where the docking station comes in. Just plug in your iPod and let it play through some actual speakers instead of the tiny earbuds. I'm looking for one of these for my wife for this Christmas (keep it quiet). This model is my favorite, because it has a battery and AC power option.

Amazon Kindle $259.00
I do a lot of reading and researching. When I am traveling, I may have to carry five or six books with me at a time! Just imagine how much space all of those things take up. If I had a Kindle (hint to my wife), I could save packing time, wear and tear on my gear, and the strained muscles from lugging those things around for hours on end. A Kindle is basically an electronic book storage device. I can take my whole library with me wherever I go, and it all weighs less than a pound. Plus, if I decide to get the latest bestseller, I can download it in seconds. That sure beats a trip to the store to fight the crowds for the latest ultra-geeky book I just have to get.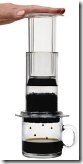 Aeropress Coffee and Espresso Maker $25
I\'m not a big coffee drinker. I prefer my caffeine to be cold and carbonated. However, I know that it is a staple for many out there. Instead of trying to pick out some specific flavor of coffee that a lot of you may hate, I looked for a great and easy coffeemaker. The Aeropress is just the thing. Fast and easy coffee that is both consistent and flexible. If I drank coffee, I\'d have an Aeropress.