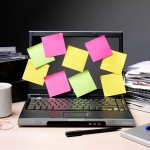 I have been working all kinds of wacky projects this week (international labor law, anyone?), and it's only magnified one of my huge (and I mean huge) deficiencies–a lack of organization.
My desk looks like a bomb went off. Ka-blooey.
(And I need your help.)
Sure, I can talk a good game, but sooner or later my subconscious clubs my conscious brain into submission and things just fall to pieces. Â It's a running joke when my wife comes up to the office to see me; she always writes a note on my whiteboard that mentions the state of complete disarray.
Sometimes I lose things (ouch). Sometimes I lose track of things. Sometimes I wonder if there's a black hole leading to another dimension somewhere near the back corner of my work space that pulls in random papers whenever it pleases. (At least that answer sounds kind of cool when you say it out loud.)
Oooh, so close…
One of my almost-ironclad strategies includes putting Post-It notes with critical tasks on my computer monitor so I see it when I sit down at my desk. I say "almost," because more than once I have leaned around and lifted up the edges of the Post-It notes on my screen to look at the screen instead of actually handling the task!
Any neatniks out there? I'm looking for some tips. Let's hear 'em. I need to get this wreck of a desk in order, and I need to do it now.