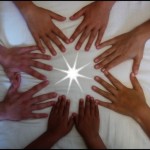 What are the benefits of team building? How can you use team building strategies to grow and develop a team that is agile, talented, and cohesive? Do you have to actively work to develop your team, or is hiring the right people enough?
Great Teams Don't Just Happen
I reached out to my friend Stephanie (find her on Twitter @TheWitchingHR) to share a few ideas on how she develops strong bonds with, and among, her team. Here's her story.
————–
Well, I fell in love with the How to be a Rock Star book and assigned different chapters to each of my staff to read. They were then asked to do a quick presentation to the team at each staff meeting. Then together we would discuss the best ideas to try and implement and a strategy for doing so.
I also have a box of "Table Topics" and each member answers one at the beginning of each staff meeting. (I borrowed this idea from Toastmasters.) The questions are things like:
What's your favorite board game?
What's the best way to deal with stress?
Have you ever purchased something you saw on an infomercial?
If you didn't have to work would you?
Not necessarily a team builder but as a manager I loved it because it helps me learn more about each of my folks. And it\'s great for laughs.
—————
How hard was that, really? Not very, but it helps your teams to create further bonds that sustain them through the tough projects, high stress, and more. The benefits of team building are evident when you spend time on it.
I've had some great experiences with team building activities, some formal and some not. I think both are necessary for the right blend of teamwork for both competency and camaraderie. A few ideas:
Swallow the Frog project-this one is a chance to encourage each other with a little competition without directly pitting each person against one another. Basically each person is challenged to select a task that has been on their "to do" list for a while and knock it out within a short deadline. It's about doing something unpleasant "swallowing the frog" and getting it out of the way.
Getting the team together for lunch on a regular basis. Make up a reason if you don't have any good ones (new hires, birthdays, "get me out of here" days, etc.).
Hold annual kickoff meetings to make sure the team members are on the same page and encouraged/excited about the road ahead. Our manager would help us get the "theme" for the year and each of us walked out of the meeting every January feeling like we could conquer the world with our teammates.
These are just a few of the ideas that I've seen successful managers use to encourage team building. Anyone else have good ideas?