I received a press release recently titled "Corporate Recruiters Suggest Most Marketable College Degrees." Okay, I'll bite.
Tell me this revelation.
Enlighten me as to what degrees are the most marketable.
Who knows, maybe they know something I don't? Here's the list:
Computer Science
Accounting and Finance
Biomedical Engineering
Business and Marketing
Communications with a writing focus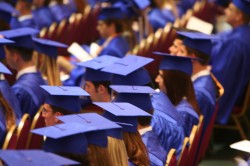 Well, I can't say I'm surprised in the least. Despite colleges offering degrees in puppetry, pop culture, or the Beatles (yes, really), the list above is not very surprising.
When students come to me asking what they should major in, I tell them to find something they are interested in that others in the marketplace will value. Note that I don't encourage them to pursue German music or art history. Just because it interests you doesn't mean it will help you to find a job, earn a living, and all that jazz. It needs to also satisfy a need in the marketplace. Hello, economics 101.
The title of this post says it all. If I have a degree in computer science, you know (generally) what I have learned and what I should be capable of. Same goes with accounting, marketing, business, etc.
If you have to spend ten minutes explaining what your degree is in or how you'll use it, then it might be time to reconsider.
Then again, maybe you should just skip the degree and get to work. In this rant I talk about the myth of "giving back" and how it's critical to teach students how to become productive citizens primarily. College isn't a requirement, and many believe we have too many college graduates as it is.
According to the BLS, only 27 percent of us need college degrees for our jobs. Yet, 47 percent of the workforce currently has a college degree. This 14.9 percentage point difference equates to 21 million overqualified degreed workers in a workforce of 140 million; or the size of the 2013 fall postsecondary enrollment.

If these data are taken at face value, given an expected class of 2.1 million new first-year college students each year in the nation's colleges and universities — at least from an economic point of view — we should consider shutting the nation's two and four-year colleges down for the next 10 years to absorb the existing surplus of graduates. Source: PBS
In addition, there's the crazy ongoing issue of these kids graduating with an average of $35,000 in student loan debt. Some really good insights on that topic (and how to avoid it for your own kids) are found here.
Food for thought.
Now let me get back to my studies. I'm trying to wrap up a course in shipwreck archaeology…