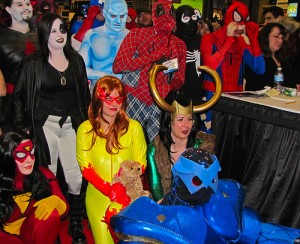 Shall I make yet another confession? Yes, I believe I shall.
I like comic books.
While I haven\'t been an active reader in years, I still love flipping through them at the bookstore. Recently my brother passed me a copy of a magazine that had an article about Marvel Comics (the company that made the movies for Spiderman, Wolverine, Hulk, Iron Man, etc.). The article focused on their editor in chief, Joe Quesada. I think there were some great leadership (and HR) tenets that were covered, and I\'ll share a few of them with you.
Leaders are humble, collaborative, and sincere
I never have that feeling that, "Hey, I control this universe." For me, it\'s really more of a feeling of collaboration. It\'s the fun of getting up every morning and getting the opportunity to work with all of these creative people. Anyone who has worked with me-or works for me-will understand that. I didn\'t run the editorial department with an iron fist. I\'m really about collaboration, always looking for what\'s the best idea. I think it\'s impossible to run a universe like Marvel and just do it with a singular voice. You need to have everyone else\'s involvement to make it that much better. -Joe Quesada
Leaders connect with customers and staff
Even when decisions are controversial within Marvel, Executive Editor Tom Brevoort characterizes Quesada as the right man to mend fences, someone who operates in the spirit of fairness with everyone from creators to fans best interests at heart.
Leaders know the business
I\'ll take the heat—that\'s what I get paid for. Why not have fun with it at that point? […] Comics are supposed to be fun. It\'s not brain surgery. It\'s not politics and it\'s not economics. It\'s putting out entertainment and keeping people coming back. -Joe Quesada
Leaders pursue (and want to work with) A players
Part of the process of reinvigorating Marvel from its late '90s doldrums included bringing [all star] creators… into the Marvel fold while continuing to scout for artistic talent.
What do you think? I absolutely never thought I would open a comic magazine and find something that would thrill my little HR-lovin' heart. I guess you never know!