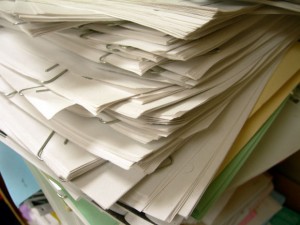 When you're trying to learn about an organization's corporate culture, values, and  beliefs, you need to pay attention to the available information to get a good feel for it. One of my friends is looking at applying to a local private Christian school, and I went to their website to print the application for him to complete.
While the application starts off like any other (job history, availability, work preferences, etc.), it gets into some very meaty questions near the end. If I was looking for a job with this organization, I would be reading those questions very closely to determine if they did align with my own values and beliefs. If so, then this would probably be a good fit for me. If not, then it probably wouldn't be worth applying since the lack of fit will be quite obvious.
In this instance, I was very excited reading those portions, because I know they are a 100% fit for what my friend is looking for in an employer. Some people would say that a 5+ page job application is asking too much out of job seekers. I say if they are seriously interested in working for you, they will make the time to apply.
Good information to include
The questions on page 4 are good ones for this school, and they can easily be adapted to fit any organization.
What is your motive in seeking a position in a Christian school?
What do you believe is the unique function of the Christian school?
What would you rate as your greatest strength in relating to children? Your greatest limitation?
How do you view your role as a communicator to parents?
In what ways will you relate scriptural principles to the children placed in your classroom?
What is your philosophy of discipline?
What is the most influential book you have read (in addition to the Bible) or seminar you have attended which had an impact on your thinking in terms of educating children?
Click here to view the application. Pay close attention to the questions and information on pages 4 and 5. Is there a way you can incorporate that sort of information into your own job application (whether online, hard copy, or electronic copy)? Do you currently have culture-related information on your job app? I'd love to see an example!