Next week I'm heading up to Massachusetts to talk about pay transparency to a group of HR and business leaders. Of all the topics I could have spoken about, why pay transparency?
First of all, it's becoming more and more of an issue because of legislation that prevents employers from asking about salary history. Research shows that women are less likely to ask for higher salaries and these laws are about trying to reduce negotiations so that women and men have more equal pay for equal work.
Secondly, in a workplace where trust is at a premium, all the research points to considerable links between trust, transparency, and employee/business performance. We can't have engaged employees without trust and transparency, and employers can't succeed without engaged, energetic employees. It's all connected!
The Options for Transparency
Employers have a range of options when it comes to transparency. They can be transparent about:
Business decisions–why certain decisions are made and how they affect the workforce
Job opportunities–are you sharing open jobs with internal staff or hoping they don't find out about them and try to make internal moves?
Compensation decisions–do workers know how decisions are made around compensation or is it a "black box" where decisions are made without any clarity or insight?
Deloitte's research says that high-performing companies are 4.5x more likely to have a well-defined communications strategy, sharing information on pay determinants, budgets, and distribution.
The Spectrum of Transparency
The first thing that appears in your head when I say transparency around compensation might be a company like Buffer. Buffer posts its salaries on the website for the public to see. Yes, really. The company also shares radically about its business plans and other information openly. While this has worked out for the firm, it's not something I'd recommend for everyone.
There are clear pros and cons for a fully open and transparent approach. The benefits include clear expectations, consistent compensation schedules, and difficulty to discriminate. However, the issues can include a lack of connection to performance, lack of organizational agility, and a significant difficulty to motivate/retain top performers.
Without some measure of transparency, bad things happen. For example, Lawler's research shows that workers routinely OVERestimate the pay of their peers and subordinates and UNDERestimate the pay of their superiors. That means they are less happy with what you're paying them!
Additionally, Helliwell and Huang's research points out that a 10% increase in organizational trust is equal to a 36% increase in pay for workers. They want, need, and crave trust (and transparency), and it's as important as a pay bump to get it!
Making it Stick
I have developed a five-part process called the PRESS framework that guides employers through the decisions that improve transparency.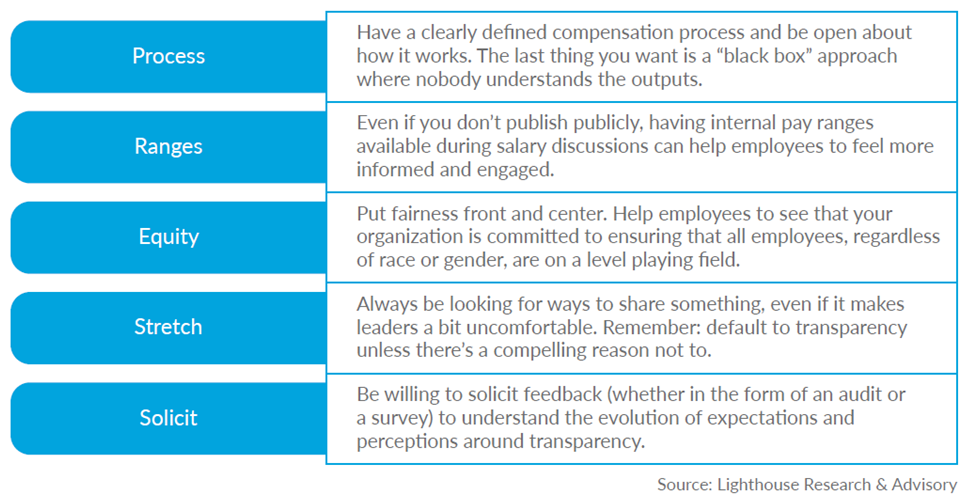 What are your thoughts on compensation transparency? Is your organization doing a good job of this, or would you like to be doing better? 
*If you're interested in having me speak at your conference or company on this topic please feel free to reach out to me!