As a working college student, you have to find a balance that works for you. Since pursuing a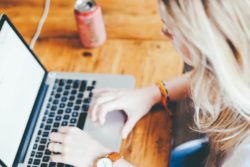 college degree is so expensive, many students look for part-time jobs to take them through school. 
Aside from helping you go through school, part-time jobs also ensure you get work experience that comes in handy once you graduate. Developing commercial experience while you're still in school gives you a competitive advantage when time comes for you to apply for a job. 
Even with the perfect balance, there will be days when you don't have enough time in your hands to complete an assignment. If you're stuck with your academic assignment, see here for online writing help. 
Every student with a part-time job should always have in mind why they're in school in the first place. You should not allow your work life to take over your academic life. Surround yourself with hardworking friends who keep you accountable. 
Here are tips that will help you combine your studies and part-time work.
Plan Ahead 
If you're going to find the perfect balance between your work and studies, you have to plan ahead. What does this really mean? Well, first off, figure out your school timetable and ensure your work shift does not clash with it.
You need to find a flexible job that allows you to work around your school timetable. You should understand that your academics are always the priority. If you're always missing lectures because of work, you should consider finding another part-time job. 
Stay Organized
There is no way you're going to succeed in combining work and study if you're not organized. You have to keep track of all your deadlines and make sure you deliver. For instance, if your part-time involves writing articles, you need to ensure all your clients get their projects submitted on time. 
On the other hand, make sure your assignments are submitted on time as well. Staying on top of things saves you from dealing with the pressure of doing things last minute.
Communicate 
Even though your studies are priority, your job is just as important. There is a reason you choose to take up a part-time job. If you want to keep it, you have to communicate with your employer. 
If anything comes up last minute and you cannot make it work, make sure you tell your employer about it. Your employer is likely to be more sympathetic if they know why you did not show up for work. Be sure to suggest practical solutions to avoid recurring dilemmas. 
Adopt a Structured Work Pattern
When you're splitting your time to focus on more than one thing, a structured pattern comes in handy. Since the school already provides structure for your academic life, you need to establish the same for your work life. 
Having a definitive structure to work with helps you keep your focus even on days when you have crazy schedules. 
Make Time for Unwinding 
Unlike all the other students who have a lot of free time in their hands, you use yours to earn extra cash. For this reason, you need to be intentional about finding time to unwind. Working without a break is not good for your mental health. 
Other than that, you cannot be at your best if your brain is exhausted. Set aside at least one day each week when you do nothing else other than relaxing. 
Conclusion 
Combining work and study is no child's play. As a student with a part-time job, you need to find a balance that works for you. Each time you're unable to show up for work, make sure you communicate with your employer.