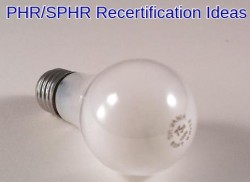 So you've taken and passed the exam. Congratulations! Now it's time to start looking at your recertification credits.
Anyone can sign up for seminars and webinars to get credits, but the smart HR pro will take a step back, look at the career options available, and make strategic choices that are low-cost and high-impact.
I have developed a short guide that not only provides over 50 ideas for gathering recertification credits, but also includes three powerful worksheets for:
Tracking the type of credits and how they contribute to your growth as an HR professional
The long-term planning implications and how to align your career goals with your recertification cycles
Helping you understand the mindset of an employer and how to get your company to pay for your continuing education activities
The 50+ ideas are not made up of your typical recertification activities. Some might be what you'd expect (sources for great, free webinars), but others are more innovative and valuable for you to invest your time in (developing strategic HR projects that contribute to your career track).
Save big $$$
Have you ever been to one of the big national or international HR conferences? They are not cheap! And even small local events add up over time. So how are you supposed to get your credits without breaking the bank?
This guide gives you dozens of ideas for free or low-cost activities to generate recertification credits, potentially saving you thousands of dollars over the life of your HR career.
Interested? Click here to get your copy of the guide for only $9.97.