This post brought to you by National Restaurant Association Educational Foundation . The content and opinions expressed below are that of upstartHR.
As we continue the discussion about the restaurant industry, we've seen some great content as far as jobs and career tracks. One of the first things people consider when looking at career options is the compensation. A few of the more common questions:
What will I make? Can I provide for my family? What about growth of pay over time?
As you can tell from the information below, the responses to those questions are definitely positive. The infographic below looks at some key areas around these questions, but the following points are especially pertinent:
<ul">
The numbers are clear – there are very competitive wages available to employees of the restaurant industry. Chefs and cooks make a median base salary of $50,000, while restaurant managers make a median base salary of $47,000.
Salaries in the industry are not stagnant. Entry-level employees receive a pay raise, on average, within six months of hire. About 70% of managers and shift/crew supervisors have received a raise within the past year.
The industry goes beyond hourly pay; by mid-career, 57% of restaurant employees are salaried.
One of the stats that I'm particularly surprised by is the growth of wages over time, particularly the 70% figure for managers and supervisors. That is a prime example of the type of growth and opportunity available within the industry that might otherwise not be obvious to those unfamiliar with the restaurant field.
In the infographic titled "Do The Math" you can find some of the key areas that people want to learn about regarding restaurant career compensation.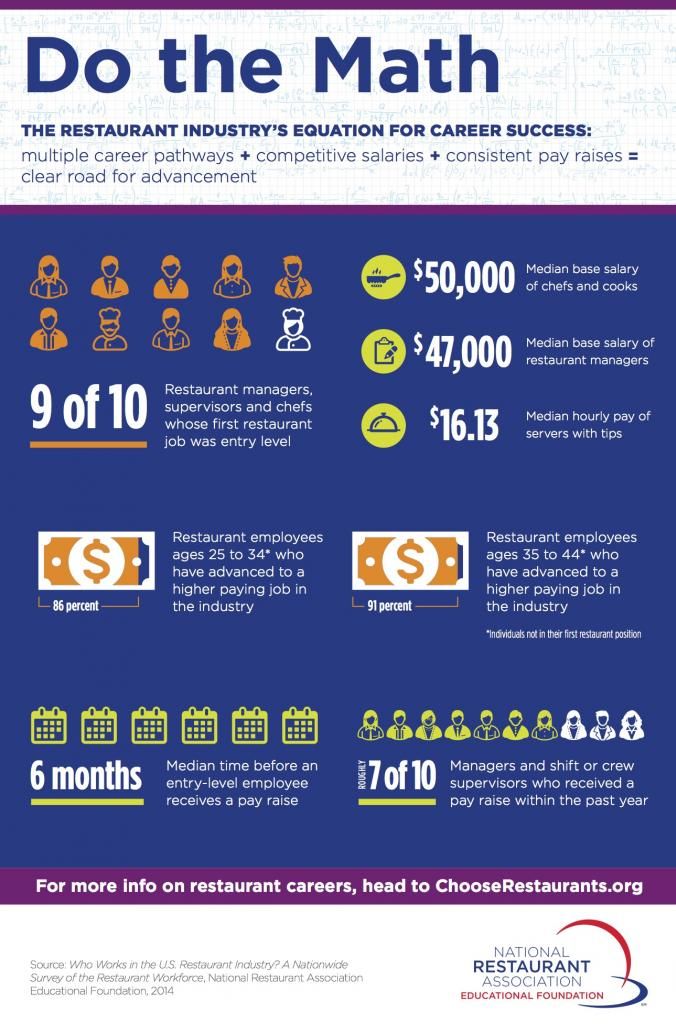 So, what are your thoughts regarding compensation in the restaurant industry? Did anything in here surprise you?