This week I have a treat for you. I had the opportunity as part of my role on the #SHRM16 social media coverage team to interview Rohini Anand, Senior Vice President of Corporate Responsibility and Global Chief Diversity Officer. She will be speaking at the SHRM Conference on June 20th from 2:00-3:15 in case you are interested in seeing her after reviewing this interview.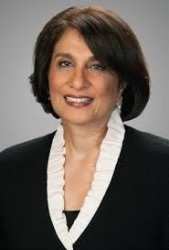 Ben: Just to get the ball rolling, please tell me about yourself and what you do at Sodexo. 
I currently serve as the Senior Vice President, Corporate Responsibility and Global Chief Diversity Officer for Sodexo

I am responsible for the strategic direction, implementation and business alignment of Sodexo's integrated global diversity and inclusion initiatives, as well as Sodexo USA's sustainable development, wellness and corporate responsibility strategies

I also lead the organization's sustained culture change initiatives, as well as its integration in the overall business growth strategy
Ben: What is Sodexo's biggest challenge when it comes to diversity and inclusion today? 
Increasing representation of women and minorities in operations and P&L roles and developing the pipeline for women and minorities within specific jobs and grades in operations

Influencing and making diversity and inclusion relevant on a global scale in more than 80 different countries, in a geographically dispersed environment

Maintaining progress while going through major global transformation
Ben: I'm fascinated by your combined roles of social responsibility and D&I. Can you talk about why those are linked and how the two roles interrelate? 
As a global leader of quality of life services, it is important that the work we do is aligned to the needs of our workplace, workforce, marketplace and community

Corporate responsibility is key to how we support and strengthen the diverse communities that we serve, both locally and globally

Millennial talent values organizations that excel in these areas, and as we focus & succeed in our efforts here, it also allows us to attract top upcoming talent to the company

As we think about things like supplier diversity, workforce development and other community focused initiatives, the D&I and corporate responsibility connection is clear.

At Sodexo, diversity and inclusion are also encompassed in our better tomorrow plan that addresses our corporate responsibility commitments including our commitments to our employees, the community and the environment

Therefore, both can be closely linked to the overall success of our organization
Ben: I see on your LinkedIn profile that you have done some research in the area of change management. I, too, am a lifelong student of organizational change. What are some of the keys to successful change you have uncovered in your research and professional experience? 
I have learned that the use of a Change Model to plan and execute change activities that will positively impact project inputs (budget), outputs (milestones and schedule), and outcomes (sustainable change) is key.

It is also important to have an effective communication strategy that highlights :
NEED FOR CHANGE–Capture the nature of and rationale for the change early, and revisit it often.

CLEAR SHARED VISION–A clear shared vision is foundational; it provides direction and purpose.

LEADERSHIP COMMITMENT AND BEHAVIOR–Some changes are potentially contentious and others are not. We know that leadership alignment is critical so think about where your change falls in the continuum and determine what you need to do to determine if there are gaps in leadership alignment and see what role you can play in bridging those gaps.

STAKEHOLDER INVOLVEMENT–Perhaps the most important part of the Change Management process. You need to understand who your stakeholders are, what their concerns are, and potential impacts to them, before you can prepare a change strategy. This is generally where most of the work falls for the communicator.

SUPPORTING STRUCTURE AND PLAN–A complex change (such as a merger or a major restructuring) may require technical support in terms of creating an organizational design that supports the future state. As communicators, we contribute to such activities, but they are usually owned by HR or other parts of the organization.

PERFORMANCE MEASURES–In our process of Continuous Improvement, we need to analyze and learn from our activities to make sure that we are driving sustainable change. These are some of the steps that may help you with your next change project.
Ultimately, for us, embedding D&I and corporate responsibility in our organization has been a change management process. The success of this systemic change can be attributed to:
Defining a clear business rationale and case for change and embedding D&I and CSR in the business growth strategy

Leadership commitment and role modeling

Identifying clear outcome metrics and holding people accountable

A systemic strategy that engages the organization top down, bottom up and middle out
Ben: Out of the dozens of sessions at the 2016 SHRM Annual Conference, why should someone attend yours? What are the key takeaways you want your audience to pick up from your presentation? 
As noted in my abstract,

Synthesizing Diversity and Inclusion; A Critical Business Imperative –

In today's increasingly complex and interdependent global economy, diversity and inclusion is a business imperative that can drive an organization's ability to attract and develop the best talent, create an engaged and high-performing workforce, and deliver exceptional results for clients and customers.
To remain competitive, organizations must continually evolve their focus and adjust their strategies to anticipate changing workplace and marketplace demands. Diversity and inclusion is a competitive advantage and should be a fundamental component of any organization's long-term growth strategy.
Sodexo is convinced that Diversity and inclusion has a significant impact on business performance. To demonstrate the positive impact, Sodexo will unveil the results of their

global gender balance business study

and share the correlations to both financial and non-financial performance and the impact on organizations.
Participants will leave the session with the following takeaways
Recognize the business case for Diversity and Inclusion relative to the attraction and retention of key executives

Understand key strategies for supporting a culture of inclusion

Realize how strategic planning related to diversity and inclusion affects end-user outcomes

Gain a better understanding of why and how gender balance impacts performance

Support the development of gender balance programs and initiatives at all levels of the organization
Sodexo's unique gender balance case study and its results will be shared and provides powerful ammunition for the business case for diversity.

The results and study suggests that it is not only about increasing your representation of women, but having the best mix of men and women on all teams across organizations

Gender balance and diversity in general, changes everything—and all for the better. Participation in this session will show how much everyone stands to gain from increased gender balance.

Details about and findings from Sodexo's research into gender-balanced leadership teams are available in the company's recently-released

2016 Workplace Trends Report
Thanks again to Rohini for taking the time for this interview! I enjoyed it and hope you did as well. 
SHRM Session Details
Synthesizing Diversity and Inclusion: A Critical Business Imperative
Competencies: Business Acumen, Global & Cultural Effectiveness
Intended Audience: Senior-Level
This session will show you how to recognize the business case for diversity and inclusion relative to the attraction and retention of key executives.
Presenter: Rohini Anand, senior vice president and global chief diversity officer, Sodexo, Gaithersburg, Md.