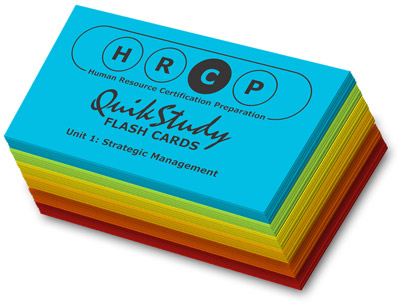 Update: the free HR flash card giveaway is past (for now). Find out who won here. If you want to get your hands on one of the best HR certification study aids available, why not snag the eBook?
Or you can get the HRCP discount! If you purchase the HRCP study materials and use the special HRCP discount code, you will get a $20 discount!
It's getting to be that time for a large number HR professionals out there. They'll be hitting the HRCI website and signing up for the PHR, SPHR, or GPHR exam. And I have something to help along the way. I've partnered with HRCP for a few months now, and I haven't regretted it once. They have a great HR certification prep study guide, and you can save yourself the hassle of making flashcards by getting some from them. However, they've given me a pack of their flashcards to give away for free.
Free HR Certification Flashcards
Would you like a free set of HR certification flashcards? Here's what you have to do.
In 50 words or less, simply tell me why you're taking the exam.
Your story can be touching, funny, crazy, or eye-gougingly boring. It's up to you. The deadline is 11:59pm on Wednesday, March 10th. The winner will be chosen randomly (thanks to Random.org) and notified via email. Depending on the popularity of the contest, I may host another in the near future. But we'll see. So get cracking on your answers!