man·i·fes·to (noun) 1. a public declaration of policy and aims
What if I gave you a sheet of paper and asked you to write the manifesto for what matters in your world. What would you say?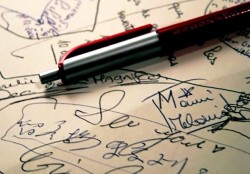 Remember…
It doesn't have to be long.
It doesn't have to be complex.
It doesn't have to be difficult.
It needs to be a vision of what drives your actions at the very core of your belief system.
What would be the title of your manifesto on talent management? What would you say? Can you even articulate your thoughts on the topic off the cuff? Why or why not?
If you think you don't have any manifesto-worthy ideas relating to the business of people, why do you think that is? Is it a personal constraint or something else?
I think we all should have some core beliefs about what it means to lead people in the workplace. Take some time today to consider yours and, if necessary, put them to paper to ensure the ideas don't get away from you. They're worth holding onto.