I'm so excited about the upcoming AL SHRM State Conference on May 18, 2011.  We are expecting over 500 attendees.  As usual, we have very informative and timely sessions planned for our attendees this year.  In the past, we have did not have much time available for networking and socializing, this year I'm looking forward to our first pre-conference reception at Saks Fifth Avenue.  As an HR Professional, you cannot afford not to attend the AL SHRM State Conference. –Carmen Douglas, President of the Alabama State SHRM Council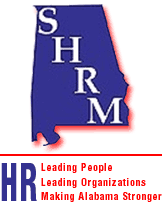 One of the first blog posts I ever wrote back in 2009 was about ALSHRM. It was the first event I attended as a blogger and Twitter user, and I will never forget it. This year I am going back to cover the event at the request of the ALSHRM state council. I'm excited about content and connections.
Content
This is what I'm looking for as my plan for the day. Pumped!
Opening Keynote Session: From Boomsters to Linksters: Managing Friction Between Generations
Absolute Honesty: Building a Culture of Straight Talk and Integrity
Lunch Keynote Session – Just Like Fine Wine: Cultural Emotional Intelligence
The Laughing Warrior: How to Enjoy Killing the Status Quo
Closing General Session: How Aflac HR Impacts the Bottom Line
Connections
I have some old friends who will be present (@adowling, @thewitchinghr, @incblot, etc.), and it's always great to catch up with them. I'm also excited about meeting some new people, including at least one of the speakers. Dale Dauten, author, speaker, and all around great guy is going to be talking about innovation, and I can't wait to hear what he has to say.
If you're following on Twitter, I'll be on the #ALSHRM11 hashtag with some of the other attendees.
In short:
Cheap cost.
Valuable content.
Welcome to the Alabama SHRM State Conference.