For those of you not in the know, an HR department of one is just what it sounds like: an HR department where one person covers all the bases from an HR, talent, and recruiting perspective.
I have a special place in my heart for the HR department of one, because that's where I came from. When I worked in the HR profession, I had the opportunity to wear all (and I mean ALL) the hats, and while it was challenging it was also a lot of fun. I love building a function and growing from the ground up, and it was an amazing experience. That is one reason I've worked on podcasts and other free resources to help a department of one to survive and thrive.
An HR department of one (or DOO) is a special kind of person. They are doers and are the kinds of people employers need to hire. And while we assume these are all tiny companies, we found that these individuals work for companies of all sizes (as our new research shows)Â from 5 to 750 employees!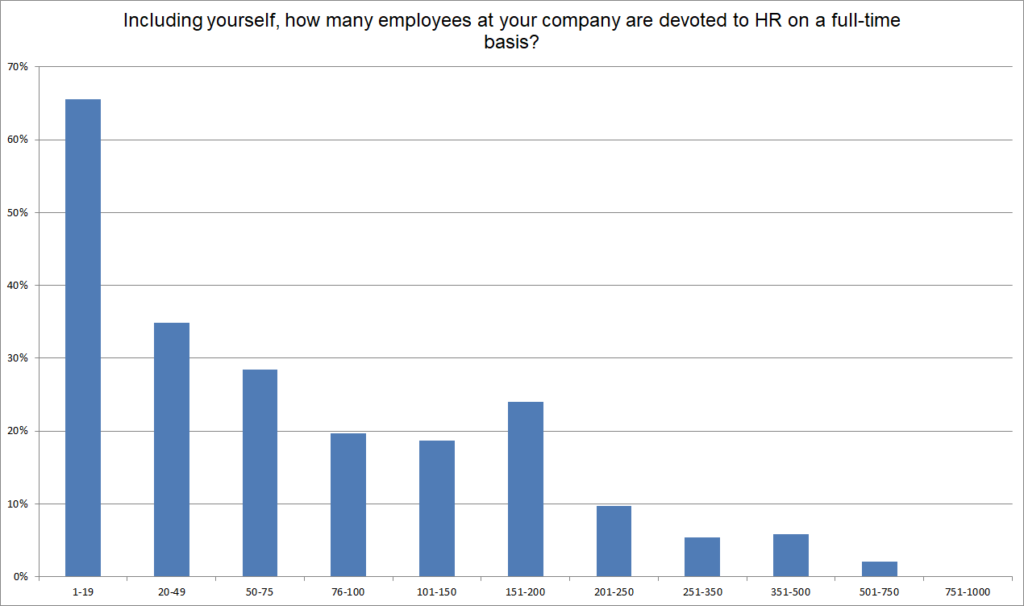 5 Things a DOO Will Never Say
That said, there are some things that an HR DOO is simply unlikely to say. Read this and try not to smile!
I'm done for the day so I'll take off early.
Sure I'd love to take on security and finance in addition to HR. Got anything else we can add to my plate?
Since I don't have any competing priorities I'll go ahead and attend that "optional" meeting my coworker invited me to.
I wonder if accounting needs help with anything?
I love when I get to recruit for two new openings, investigate a harassment claim, run a training class, send a new baby congrats card, celebrate an employee service anniversary, review a payroll exception report, reconcile our benefits statement, onboard a new employee, and send out our engagement survey all on the same day.
At the end of the day, this is just a reminder that while you see so many companies in the news for their flashy benefits or their "cool" culture, the truth is many firms exist that are run by 1) no HR person 2) a department of one or 3) a department of one with a very small team.
Don't get caught up in what the "cool" companies are doing. Make work great for your team. As the head of HR for the nation's best midsize firm likes to say, you need to create the right environment for your specific workforce to perform and thrive, and that environment isn't the same at every organization.
What else would you add to this list of things an HR department of one will never say?