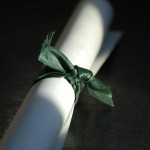 One of my friends emailed me recently with a question, and I know it's a question that a lot of people ask. Even if you haven't asked me, my opinion's on its way. Enjoy!
I got my bachelor's degree in HR in 2008. I have not worked in the field before, and I'm still looking for a job. I just came across an advanced HR program that looks interesting. It costs $4500. Do you think it would be a good idea for me to do this program?
In my (o so unprofessional) opinion, going for further education before you've ever stepped foot into your career is a bad idea. Why? Well, what if you do it for a month or two and end up hating it?
That money would be gone forever.

I thought about graduate school a short while back, too. While I haven't written it off forever, I don't think it's something I should be spending time, money, or energy on right now. A lot of job seekers realize how hard it will be to find a job, and then they decide to go back to school. I don't know if it's true or not, but it sure looks like you're trying to bury your head in the sand.
Well, if I can't get a job, I'll just go back and get more education. Then someone will have to give me a job.
Nope. That's not how the real world works, my friend. Employers greatly value experience. Education is a nice addition, but experience will trump education in almost every scenario. Plus, if you're trying to find a job, then you are probably not exactly rolling in cash. Why in the world would you decide to spend extra money when you're not even bringing in any? It's ludicrous.
Once you get a job, then you can look at moving into more education. It may seem like a good idea to go for it when you're out of work, but please don't do it if you don't have experience yet. Bad plan.