If you've been thinking about having better communication at work, but you're not sure how, here's a quick tip from a former manager that has stuck with me.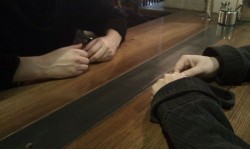 Every year when we held our annual kickoff meeting to prepare for the hurdles ahead, she walked us through a quick presentation of her expectations for the team. It touched on responsibilities and ideas for better communication at work, among other things. And every time, without exception, she would mention "fluff 'n stuff."
One example of better communication at work
A manager emails you asking for an idea of how the recruiting is going for an open position in his department. You have two ways to respond. Both ways get the same pertinent information across, but one way involves slightly more effort on your part.
Hey, Tom! It is going well. We are scheduling two candidates to interview later this week. You'll see the calendar invites shortly. Thanks!
Hey, Tom! Thanks for reaching out. It's going really well. We actually have two candidates that we're scheduling to interview later this week. I will be sending the calendar invites to you shortly. Hope you guys are doing well up there. Let me know if there is anything else I can do in the meantime. Thanks!
Clearly option two is what I'm referring to in terms of adding the "fluff 'n stuff." Even though it took an extra 15 seconds to write the additional words, the feeling of the response is more friendly and personable.
It's not a revolutionary, world-changing avenue for better communication at work. But it's the little things like this that make you and your department the resource that all staff come to when they need help. I'm not saying that the first response would be wrong, and there are times when the time crunch forces a shortened response. But over time if I'm sending a significant number of those, I will take the time to send a longer, more detailed response once in a while.
That's one solid tip for better communication at work. Do you have one? Do you use "fluff 'n stuff" when you respond to your staff? Why or why not?