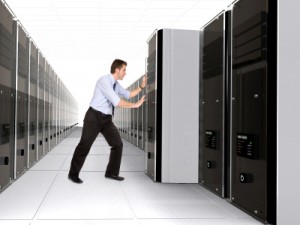 The title of this page frightens some people. You may be one of them. They are words that don\'t mean much to you (yet), and you may instinctively shy away. Don\'t worry, they aren\'t anything special. Here's the simple breakdown.
Domain
This is the "address" where people find your site. For example, www.upstarthr.com is a domain. Domains are very cheap (~$10/year), and you must have one before you start your site. Think of it as a lot where your house will eventually be built. Note: if you use Dreamhost for your hosting, you get a free domain name in the process.
Hosting
This is where the information that appears on your domain is actually stored. There are many hosting companies to choose from, but Dreamhost is the one that I prefer for my different sites. Think of it as the house where all of the data for your blog is stored.
Free vs Paid
Before I get into price, you should know that there are free sites out there like WordPress.com that allow you to set up and start a blog without any cost. The only reason I don't recommend that people use the free sites is because you will, at one time or another, probably grow out of the abilities of the free version. I used the free version for a month or two when I started blogging, and then I paid to be self hosted and have never looked back since. All of the blogs I create are self hosted (i.e. paid versions), including my local SHRM chapter's, the HRevolution event page, and the adoption site I run with my wife.
I use Dreamhost to run those websites/blogs. I've been with them for over a year with no issues, so I feel pretty comfortable recommending them. I've also heard good things about Bluehost, too.
Dreamhost loves me. That's cool, though, because it's mutual. While DH is a bit more expensive than some other hosts out there, they have more tools available that allow you to expand when you're ready. Just to be on the safe side, they offer a free trial to let you test drive their service. They also let me create a discount code for you to get you started off on the right foot. Sounds good, right? If you pay for hosting with Dreamhost, you get a domain name for free ($10 savings). And to make that even sweeter, if you use the link I provided above when you sign up, you can get an extra discount.
If you're a bit more strapped for cash, you might want to look into Bluehost as well. Their hosting is cheaper and still pretty reliable, although I can't speak from personal experience.
Yeah, all this tech stuff isn't what you signed up for if you're just wanting to write. I completely understand. If you are looking for someone to set up a blog for you and make the process as hands-off as possible, check with Allen Robinson of Logic Writer. He charges a fair price and does great work.
The Lessons