Last week I did something here on the blog that I haven't done in a LOOONG time. I didn't post anything. But it wasn't because I had nothing to say–it's because I was neck deep in final preparations for DisruptHRHSV, which happened last Thursday night.
This event was a long time coming and we had participants from as far away as Houston and Atlanta come to join us for the event. With about 150 participants, including 14 speakers and a handful of amazing sponsors, there were plenty of balls to juggle leading up to the session!
Bottom line: it was pretty darn amazing. If you were there, I appreciate your support and your participation. If you weren't, I hope you can join us next time (more to come on this)! We'll be posting the videos of the event on the DisruptHR website after they come back from the videographer so you can see how it turned out, but for me it was like getting family together (the kind of family you like!) to talk about something that we're all passionate about: HR, people, and business.
A quick shout out to our speakers that had the courage to stand up and share their stories/passions–well done!
Additionally, our sponsor partners were amazing and we are so thankful they worked with us to make this event special. I like 'em so much I put their names on the special DisruptHR shirts I had made last week. :-) Thanks again PeopleStrategy, ADP, PassionHR, and Paycor!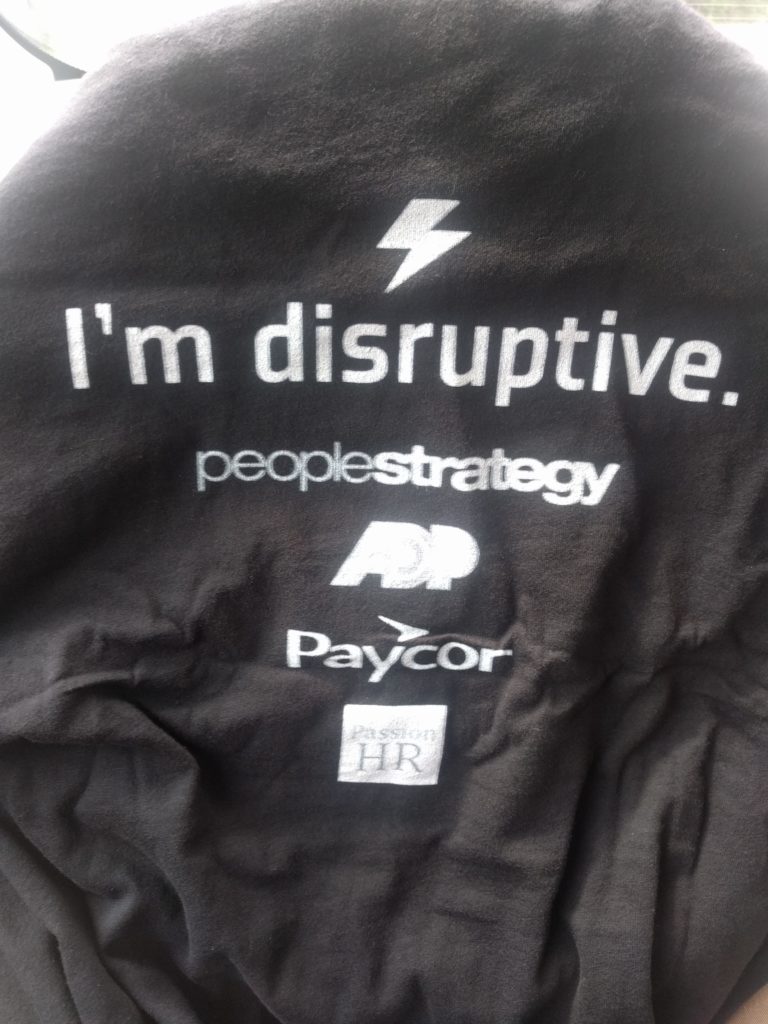 This week I have a lot of great things in store for you. I'm doing some writing around compliance, investigations, and HR metrics that I am looking forward to sharing with you. Additionally, I did an interview with Collette Williamson from Southwest Airlines to uncover some of their expertise around building a great culture that I should be posting this week as well. Stay tuned for good stuff!