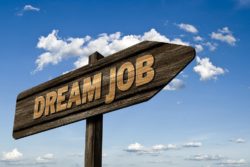 Today's question is from someone that is trying to get into the HR profession. It's a common challenge, but her specific problem is whether this is coming too soon or if she is ready for the role. Check it out:
Hello!! My name is Sam. I just started my educational journey in business, and eventually a degree in Human Resource. I'm NEW, I'm EXCITED, and I'm…… uh oh…. I'm given the opportunity to apply for and possibly taking a position, ALREADY?
So, here's some back story. I'm in our local coffee shop grabbing some fuel for the day, when the owner of my longtime boyfriend comes into line behind me. No big deal, we've met many times and he's a really nice guy. Well, he overhears me speaking about school and asks me what I'm in for. I jokingly say "whatever Company X is hiring for".
"Human Resources, Janedoe is leaving soon"
Oh. Em. Gee.
THAT'S WHAT I'M GOING TO SCHOOL FOR!
Fast forward, Janedoe is still there, I have been way too chicken to go talk to her. Besides being nervous to get the job (potentially), Im nervous to tell the woman I've been working for doing homecare that I'll be going for an interview for my dreamjob and leaving her in the dust.
In the meantime the accountant lafy is looking for an assistant. So, Im wondering if I should take the assistant job (and the pay cut) to get my foot in the door of the company and get to know the dynamics better, or if I should just go talk to Janedoe about replacing her and possibly interning with her while she's there.
When I came across your blog, I thought, THIS GUY KNOWS WHAT HE'S DOING! And you seem to actually enjoy it. I know this is a lot of me talking, and you don't know me from Adam, but PLEASE help me land this job. Opportunities like this don't come around for people like me. I'm ALWAYS the yes man. I'm ready to work my way into where I want to be.
Any tips I can use to land my first HR job…. without the HR experience? And yes, I've read the post about landing jobs, but I feel my situation is a little out of the box.
Thank you so much for reading!
My Response to Sam
Hey, Sam! How cool is that? So without knowing some of the dynamics of the people involved, it becomes a bit challenging to advise you on what to do. Here are a few quick thoughts:
Don't be afraid, WHEN IT IS TIME, to tell your boss you're leaving for something that is in line with your dreams and aspirations. If that boss can't understand that they are not a good boss anyway. The good ones will want you to chase your long term dreams. Keep cool until it's time, though. You don't want to lose your position because some managers can't bear the thought that you'll leave "eventually" and saying it out loud makes them itchy for a replacement.
Accounting assistant–this isn't a bad gig and might allow you to get closer to the work being performed on the HR side than you realize, especially if accounting helps with running payroll. You might even be able to negotiate that a portion of your time is spent supporting HR as a way to grow your influence and connectivity into the organization. One of my first roles BEFORE I got into HR was working as an accounting assistant helping with payroll, time and labor, and other back office activities. That's good experience.
I don't know enough about Janedoe to know what kind of person she is and how she might respond to you coming to her, regardless of your good intent, with the thought that you might replace her. Most people would see that as a threat, especially because you have little/no experience, so I would hold off on that for now unless you have the backing of someone higher up the food chain in the company to come at this in a positive way.
If you have a good conversational relationship with the owner guy you met at the coffee shop, I don't see a problem with approaching him with the accounting/HR options and asking for his input. He clearly has some line of sight into the situation and might have something helpful to offer.
I hope this helps, Sam! Good luck with your career. Anyone else have comments to share with her?
Also, do you have a question about your own HR career, whether as a newbie in the field, someone advancing up the ranks, or someone trying to decide what's next after you've capped out in your role? Feel free to email me (ben@upstarthr.com) and I can share your anonymous post here on the blog for others to learn from your experience.