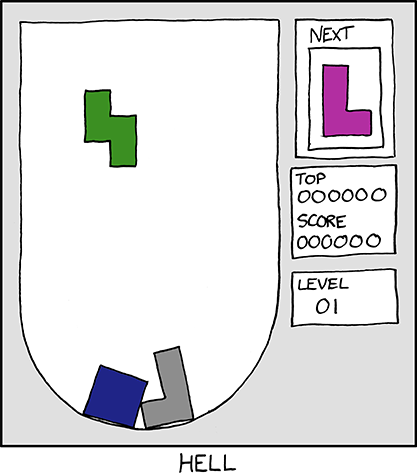 Ever play Tetris before? The goal is to line up geometric figures in complete lines to earn points. Making things fit is the name of the game.
The image on the left is a joke, because it's simply not possible to complete a line with the rounded bottom.
In other words, success is impossible.
As recruiters and HR pros, we do our best to get people into our organizations that fit our culture. Sometimes it's extremely frustrating when you find someone who looks like an all star but isn't the right cultural fit for your business.
Trying to force a fit in this situation isn't going to make things work. And that isn't necessarily your fault.
Sometimes people just won't fit.
But it's not necessarily a bad thing. That's what separates Zappos from Wal-Mart. Keep that in mind.
Image credit: XKCD
Originally written as a guest post for Chris Ferdinandi over at RenegadeHR.net.