I know I need to focus on engagement and our HR strategy. But how can I do that when some of our employees don't even have homes to go home to?
When I had this conversation with an HR leader based in Houston just after the hurricane had unleashed flooding on the state, I had to think carefully about what I was going to recommend. In the end, what I told this woman was the same thing I will recommend today in more detail.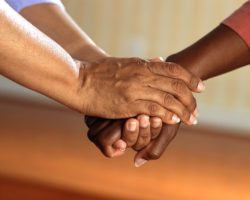 When employees are going through a tough time, we need to recognize the fact that they are humans.
People.
Individuals.
That man? He's someone's father, brother, or son. That woman? She's someone's mother, grandmother, or daughter. Just like the story I told in my initial episode of We're Only Human when the podcast launched last year, it's important to see people as people.
I haven't lost sight of the fact that business often goes on as usual in many circumstances. Things need to get done. But by focusing on the person and their fundamental needs first, you can earn amazing loyalty that is difficult to quantify.
One really easy way to show that you care for someone in more mundane circumstances, such as when a child is sick, an employee is dealing with an aging parent, or even a more positive situation like the birth of a child, is to send something unexpected. Research shows that we don't just like general surprises, we actually like to be delighted.
Spoonful of Comfort is a great example of how to do this with a relatively low investment. Recently my wife and I were struggling to handle several travel activities for my job while juggling the needs of our kids. Plus our youngest was facing a few doctor's visits for some issue. Basically we were stretched to the max. Thankfully, the team at Spoonful of Comfort sent a care package over for me to test out and it happened to come at the exact perfect time for us. I was so appreciative!
We didn't have to worry about pulling together a family-friendly meal
We were able to focus our time on our family needs and taking care of other priorities
One word: cookies.
If you're looking for a simple, practical way to help your workers through a tough time, send them something that feeds their body while also meeting their need for appreciation and attention at the same time.
On a broader scale, people want to know that their employers care about them. They want to know that their managers and others are thinking of them, especially when things are difficult in their personal lives. In the instance of this horrific damage done in Texas, Florida, and elsewhere, it's important for us as business leaders to stay in tune with what our employees need and make sure we're offering a helping hand to the extent possible.
I can vividly remember when tornadoes ripped through north Alabama six years ago and one of our employees that had been with us for two days lost his home. Everyone gathered around him in spirit by donating leave so he could take the time with his family to recover and begin the project of replacing what they had lost.
Like many things in HR, this is simple, even if it's not always easy in the moment. Pay attention to your people. Treat them like people. Meet their basic, fundamental need for attention and support. And in the long term, it will be worth the investment in the lives of the people that enable your business to function.