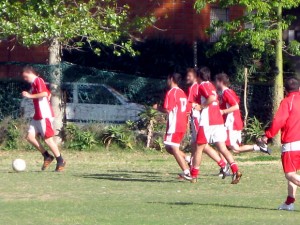 In my first post on how to develop managers, I talked about uncovering manager development opportunities. Today we'll talk about how to structure your organization so the managers want to get involved with their own development.
Hire right
It starts with the hire. If you hire someone who is comfortable with what they can already do and isn't interested in doing anything more, then you're probably going to have difficulty working with them. One of my favorite songs uses this lyric, and I repeat it to myself often when things start to get a little out of my comfort zone:
Somewhere in the grand design, it's good to be unsatisfied. It keeps the faith and hope a little more alive.
There's nothing wrong with finding someone who is not satisfied with where they are currently with regard to their knowledge or skill level. In fact, passion is a big factor in who I decide to hire.
Put them in charge
Once you have someone who is eager to start learning and growing, it's time to help them understand that it's really their responsibility to make that happen. You can help by providing tools and resources, but they need to own their own growth.
Give them the tools
As far as tools and resources go, you should be offering reimbursements for education (or at least for some smaller, local training courses). If you can't afford that, go the lunch and learn route and start providing information for free to your employees with weekly lunch hour training sessions. It's important to show that while they are in control of their "development destiny," you're willing to support them however you can.
Teamwork matters
With the right people and the right mindset in place, you need to look next to the culture. Is teamwork and friendly competition something that is encouraged? If not, it's time to start. One of the things that I've seen that keeps managers from pursuing a higher level of performance is what happens if their work slips or they lose their grip on things. If the manager is worried about being away from the office and losing sight of what's going on, they need someone else who can put them at ease and keep them up to date.
When they have other supportive managers at their same level who are of the same mindset, they can work together to keep things balanced while one is taking time off to go to school, take classes, etc. Some would offer a mentoring relationship here, and that's another acceptable way to handle this type of supportive relationship.
Show them the way
One way to help your people know if they are on the right track is to sit down with them to develop a career path. Career paths can be great retention tools if used properly. It doesn't have to be a fancy, 15-step pyramid where they end up as the CEO of the organization. It can be a two year plan to help them move into a different area, or maybe it's a way for them to see how their responsibility (and compensation) can increase as the organization grows in the coming years. The key here is to help them see where they need to go, and then let the other pieces you've put in place help them get there.
Recap
Hire hungry people
Get them to take ownership
Invest in them
Use a team-centered culture
Give them a career plan/path/map
If you enjoy the training and development side of HR, there's a free eBook you can download, print, and share on the topic; just click here.