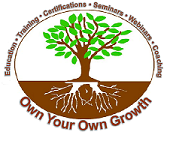 I saw this image in the footer of someone's email the other day, and I thought it was pretty interesting. The phrase "own your own growth" immediately turned my head, because I believe we are all in control of our own knowledge growth and development. It's a part of being passionate about what you do. Here are some other things that occurred to me right off the bat.
First, it's obviously an encouragement to take charge of your own growth and development. Don't expect someone else to walk up to you and hand you something to learn right at the exact moment that you need it. Start building your knowledge early and anticipate future stresses on your limits (and plan accordingly). My advice? Push your own boundaries before someone else does it for you.
Secondly, the ring across the top talks about some of the various opportunities for growth that are available to us. Some are obvious, but costly (education). Some are cheaper, but it's sometimes difficult to get high quality information (webinars). However, at some point most of us have been through some, if not all, of the list.
Formal education
Training
Certifications
Seminars
Webinars
Coaching
And finally, something about the tree took me a minute to figure out. There was something profound in there, but I wasn't sure what I was seeing. Then it dawned on me. The tree growing from the ground reaches up and out and is visible to everyone around us. They know when we have the knowledge or skills to do something, because they can physically see us accomplishing the task.
However, the growth and development underground is something different. That signifies to me that we have a lot of knowledge just below the surface. People have the skills we need, but some of them just can't be seen at first glance. However, this pool of talent is always there for us to individually pull from if we are in need, because we realize it's there. The key for a lot of organizations is finding out what is below the surface when it's not readily visible.
Anyway, that's just a few of the thoughts I had from this simple image. What do you see? Are there other tools for growth not listed in the bullet point list above?