Every so often HRCI, the Human Resources Certification Institute, changes the requirements for its exams. For instance, in 2018 the exam body of knowledge changed the most it had since I got my PHR back in 2009.
I have written extensively about how the recertification process works (and how it doesn't), which exams are a better fit for you, and more. We also have inexpensive courses designed to supplement the dry and often boring textbooks out there if you are planning to get your PHR or SPHR.
In the summer of 2020, the exam recertification process saw a new change for those with an aPHR, PHR, SPHR, GPHR, California, or International certifications as the chart below demonstrates.
New HR Certification Ethics Requirement
Starting in 2021, certified pros will have to get one ethics credit each recertification cycle to retain their existing certification.
This is aligned with other similar professional certifications, such as a CPA for accountants. CPAs must get ethics training every cycle to maintain their certification as well.
As HR professionals, we have a tremendous amount of influence and opportunity to use ethical decision-making in our daily work, but we also have to hold others accountable within the organization, from leaders to front-line workers.
Completing the Ethics Requirement
To help you stay ahead of the curve, I have worked with Dr. David Arrington, a leadership coach and brilliant speaker, to put together an ethics credit! It is preapproved for credit by HRCI.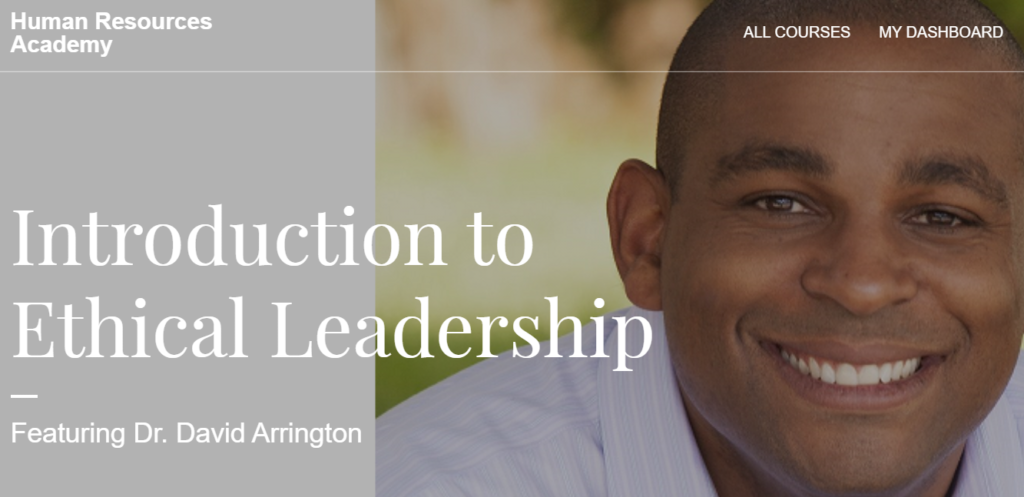 This one-hour session is a deep dive into ethical leadership and includes a series of examples and scenarios to help you think through some common things HR leaders must deal with from an ethical perspective, including compliance concerns, transparency vs confidentiality, and more.
Dr. Arrington is a phenomenal presenter and we explore the critical things we need to know in order to lead an ethical function as a larger part of an ethical leadership-driven organization. If you'd like to get a jump start on your HRCI ethics requirement, please check it out!
More About the HRCI Ethics Requirement
This new rule aligns with the Professional Responsibility competency as outlined by HRCI. From the HRCI.org website:
As an HRCI certificant, you accept professional responsibility for both your individual decisions and actions. As an advocate for the HR profession, you engage in activities that enhance the credibility and value of the organizations, while contributing to their ethical success.
You will:
Adhere to the highest standards of ethical and professional behavior.
Effectively achieve the organization's HR goals.
Work consistently within regulatory requirements of the HR profession.
Strive to achieve the highest levels of service, performance and social responsibility.
Appreciate and value the contributions of employees and associates.
Advocate within established forums to influence innovative decision making and results.
Professional Development
As an HRCI certificant, you must meet the highest standards of competence and commit to strengthen your competencies.
You will:
Commit to continuous learning, skills development and application of new knowledge related to both human resource management and the success of organizations you serve.
Contribute to the body of HR knowledge, the evolution of the profession and the growth of individuals through teaching, research and global dissemination of knowledge.
Ethical Leadership
As an HRCI certificant, you are expected to exhibit individual leadership and serve as a role model while maintaining the highest standards of ethical conduct.
You will:
Act ethically in every professional interaction.
Advocate for the ethical application of all transactions, regardless of the source.
Ensure decisions are of the highest ethical standards.
Acquire expert guidance, as needed, about the ethical proprieties.
Champion and mentor the development of other ethical leaders
Fairness and Justice
As an HRCI certificant, you are ethically responsible for promoting and fostering fairness and justice for all employees and their organizations.
You will:
Respect the uniqueness and intrinsic worth of every individual.
Treat people with dignity, respect and compassion to foster a trusting work environment free of harassment, intimidation and unlawful discrimination.
Assure an environment of diversity and inclusivity.
Confirm everyone can develop their skills and new competencies.
Develop, administer and advocate global policies and procedures that foster fair, consistent and equitable treatment for all, regardless of geographical location.
Regardless of personal interests, support decisions made by your organizations that are both ethical and legal.
Conflicts of Interest
As an HRCI certificant, you must maintain a high level of trust and protect the interest of your stakeholders, as well as your professional integrity. You should refrain from engaging in any activities that create actual, apparent or potential conflicts of interest.
You will:
Adhere to and advocate the use of published policies on conflicts of interest within your organization.
Refrain from using your position for personal, material or financial gain or the appearance of such.
Abstain from giving or seeking preferential treatment in the human resources processes.
Prioritize your obligations to identify conflicts of interest or the appearance thereof. When conflicts arise; you will disclose them to relevant stakeholders.
Use of Information
As an HRCI certificant, you must consider and protect the rights of individuals, especially in the acquisition and dissemination of information while ensuring truthful communications and facilitating informed decision-making.
You will:
Acquire and disseminate information through ethical and responsible means.
Ensure only appropriate information is used in decisions affecting the employment relationship.
Investigate the accuracy and source of information before allowing it to be used in employment related decisions.
Maintain current and accurate HR information.
Safeguard restricted or confidential information.
Take appropriate steps to ensure the accuracy and completeness of all communicated information about HR policies and practices.
What are your thoughts? Is this overdue? Is it enough?