Okay, HRCI (Human Resources Certification Institute), it's time for a social media makeover! I alluded to this post when I was talking about everything else going on in my world recently. I am doing my best not to be mean-spirited or rude, because that doesn't help anyone do anything better. Everything I say today should be taken with a smile. :-) (<–Like that!)
HRCI on Twitter
Near the end of last year, I realized that HRCI was on Twitter. Being a lover of HR certification, I was thrilled to see them there. I had a few back-and-forth chats with Alexis, and we shared a few tips and ideas back and forth. Fun was had by all. Although they were using their URL in every. single. tweet. I was still inclined to give 'em a break.
Flash forward to the past few weeks. They've been doing work on their website. How did I know that? Well, they've tweeted over a dozen times in a three day period about what you can do on their website. Okay, so they're sharing. That's something, I suppose.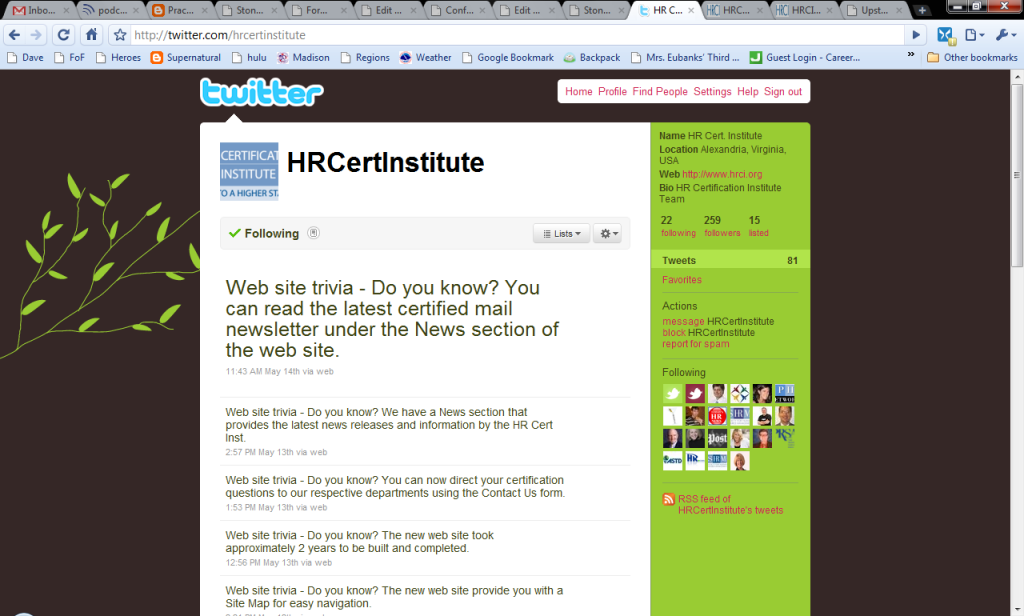 Well, I hit their new site and want to log in (haven't logged in since I took the exam last year). I kept getting a weird error. So I reached out via Twitter, asking if they could give me a hand with the issue. That was a week ago, and I haven't heard from them since.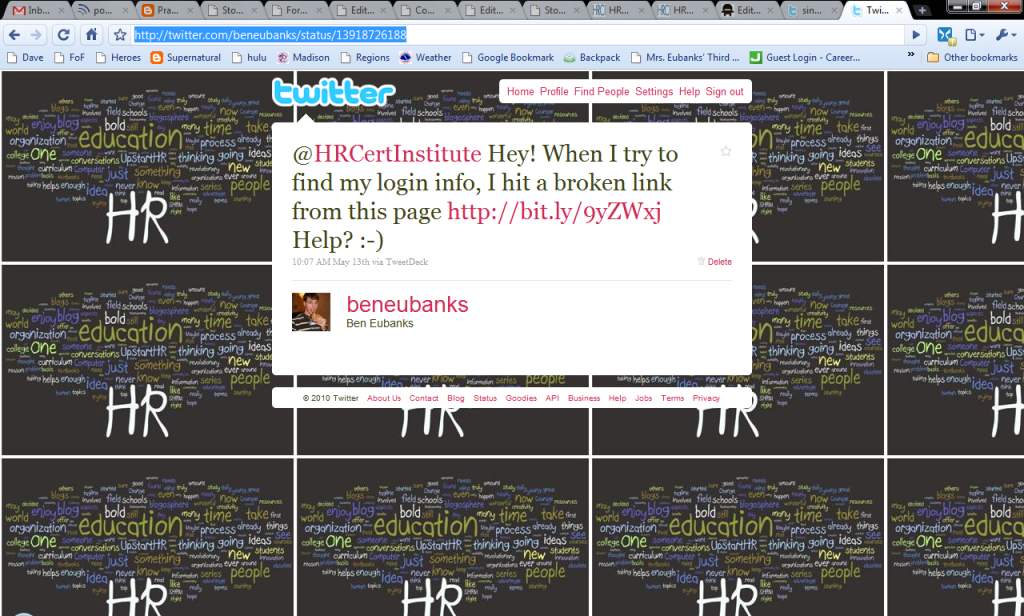 HRCI's New Blog
Well, I figured if I couldn't log in, I might as well check out their new site. So I rambled around until I found the blog. A blog. On HR certification. My nerdy little heart leaps with glee!
So my first inclination, as any blogger knows, was to leave a comment telling them how happy I was that they had started a blog.
But I couldn't find out how.
Now if I can't figure out how to leave a comment on the blog, then you have a problem. I'm not just a casual visitor. I am adamant about leaving a comment that sparkles with sunshine and lollipops. I don't know how everyone else was able to leave a comment when I couldn't. If you have to be logged in first to do that, then I think they're missing the point of the openness that is involved with social tools.
If people had to be logged in to comment on my site, my comment count would be lower than HR's chance of convincing the CEO that Facebook is a useful tool.
A Few Random Comments
It's everything Lance (and the rest of us) hate in a corporate blog. No personality. No soul. Just a bunch of press release-sounding posts. Be real, darn it.
Stop tweeting only about your website and how people can use it. That should be 10-20% of tweets. The other 80+% should be connecting, helping people, etc. Don't just be a taker. You won't last in the social world.
If you're going to blog, it should be an informal avenue/peek into the organization. If you sprinkle in some news, that's fine. But it shouldn't be about you (the business) all the time. We can tell when you're faking.
If comments are purposefully turned off for non-logged in users (which I assume is the case), then you should cut out the code snippet offering comments. And IF they are purposefully turned off, then that's just more reason that it's not a blog and it is a press release generator.
You're on Facebook, but it looks virtually like a copy of your Twitter stuff. If it wasn't good on Twitter, it surely won't be on Facebook, either. :-)
Interestingly enough, even though I never received any contact from them, check out the images below. The first is from Google's old archived page. The sidebar has some important notice about something test-related.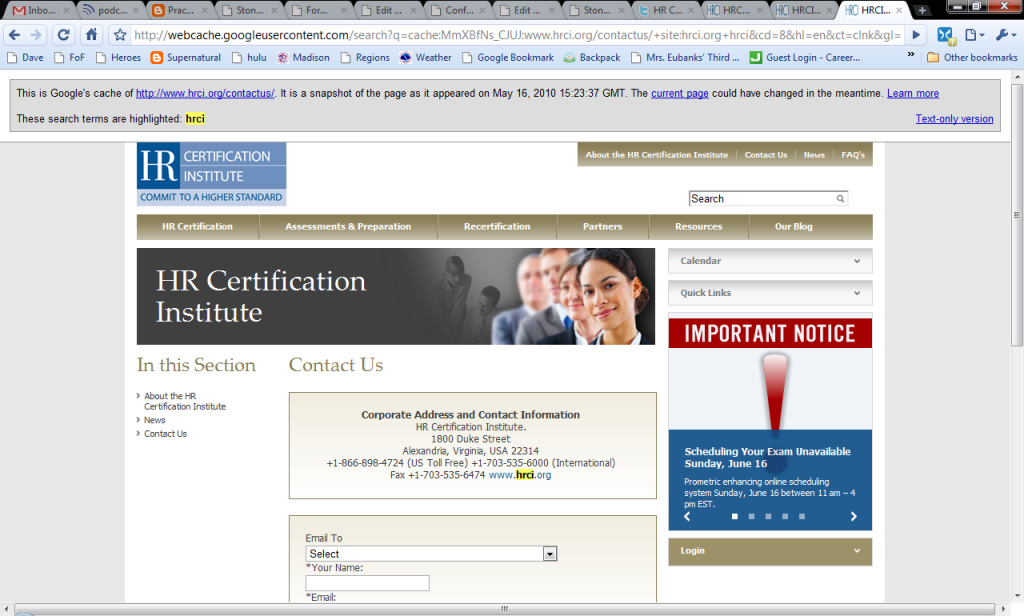 Now, if you look at the next picture, you'll see that the sidebar item has changed. Maybe to help people like me w/login issues? I can't prove it, of course, but it's pretty darn coincidental otherwise.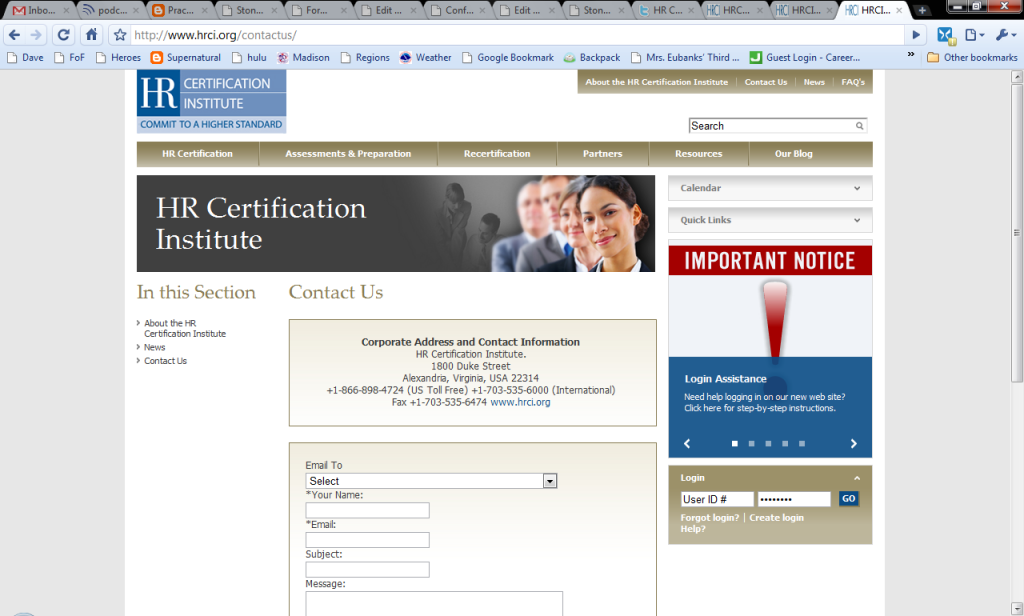 Final Points
It's all about making mistakes. I get it. I make my own on a regular basis. And I don't hate you (promise!). But let's get this thing fixed, okay? If you need help from someone in the HR community, there are dozens out here who know social media like the back of their hand. You just have to ask.