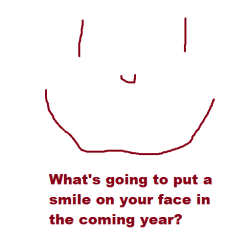 I absolutely love the new year and the feeling of excitement and opportunity that exists. I have been putting together some great plans for 2015 for this blog, for my work, and for my family. I am rearin' to go! I want to hear from you about what you're working on, but just as an example, here are a few things I'm looking at in the coming year (more to come in the next few weeks, I promise!):
Blog
Longer, more in-depth content
More fun/humorous content
More products/courses, including the World's Largest HR Book Club, an online course on strategic HR, a guide on leadership, a guide on how to improve your HR game in 30 days or less, and more
Work
Make use of more opportunities to try out things I really enjoy
Be more "out there," including participating in free monthly webinars (more on that soon) and doing interviews with HR executives
Stop complaining about how some things are done and take responsibility for doing them correctly
Family
More individual one-on-one time with each family member
Daily reading and story telling with the kids, no exceptions
Regular biweekly date nights with my wife, no exceptions
That's certainly not all, but those are top of mind for me right now.
But what about you? If I told you that tomorrow you could change anything you want about your family, your work, or your hobbies, what sort of things would you change? Please drop a comment below or email me at ben@upstarthr.com with your thoughts. If there's any way I can help 2015 be your best year yet, I'd love to support you!