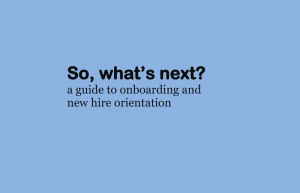 Onboarding. New hire orientation. If you've been through a bad experience, you know how important this stuff is. Conversely, if you've been through a great experience, you know how important it is to help you feel connected to the organization and people from the very beginning.
Introducing the New Hire Orientation and Onboarding eBook
Recently I reached out to a few people to see if they wanted to contribute to an eBook to help HR pros, managers, and business leaders learn more about these topics. The response was a good one, and today I'm happy to share the free eBook with you. It's titled "So, what's next? A guide to onboarding and new hire orientation."
There are three loose groups of articles in the book. First you'll hear some stories about new hire orientation gone bad. Next you'll learn some tips and ideas on how to do it the right way. And finally there are a few pieces on the unique challenge of onboarding new managers.
Special thanks to Shauna Moerke for helping me to promote the guide through the HR Carnival channel. I also want to thank the contributors for offering up some great, useful content: Paul Smith, Jennifer McClure, Trish McFarlane, Laura Schroeder, Dwane Lay, Dave Ryan, Lance Haun, Charlie Judy, Robin Schooling, Sabrina Baker, Michael VanDervort, and Tanmay Vora. You can find links to each of these contributors' websites within the guide.
Click here to download So, what's next? A guide to onboarding and new hire orientation