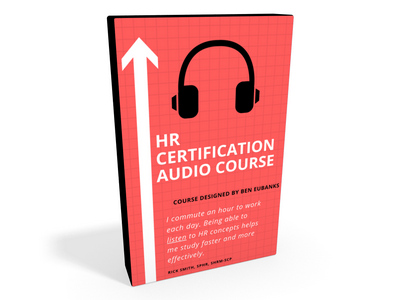 Update: the course is available for the public here. The bundle with the SPHR course is here. Audio continues to be added to the course to flesh it out and increase the value. 
One of the most common questions I get from people interested in certification is where to find something they can listen to in the car, on a walk, or even at work. I've mentioned before that as busy as I am with kids and work, I really like to listen to podcasts and other audio programs while I'm washing dishes or chaperoning people around town. Today, I'm excited to announce the presale for the new HR certification audio series.
Until now there has only been a minimal selection in the market for audio prep tools, and they are all fairly pricey. I wanted to develop something that would help to improve the HR certification prep experience while still meeting that need for auditory learners. We are launching this in time for people to use it for the coming year's exam preparation.
The Details
This program opened officially in 2017. The course has lessons spanning all areas of HR to help each of you better understand best practices and have the most up-to-date knowledge of how to leverage those practices for business success. In addition, these courses can be used for recertification credits! If you're currently certified and want to use the content in these courses for recertification purposes, you can manually add them to your profile to get credit.
Is this just for the PHR or SPHR?
No. I've had dozens of students use our other courses to study for the SHRM-CP and SHRM-SCP exams. I've also had some even use it for the aPHR exam with excellent results. The principles explored in this audio study course will be applicable across the spectrum of HR. If you like the kind of work I do here at upstartHR (including the podcast) or if you're interesting in improving your HR game, this will help you.
What is included? 
The course initially included audio lessons totaling more than 3 hours of content, but it is being expanded every month with new content. This continues to grow and should reach 10+ hours of training in 2018. It's my goal for learners to be able to use these audio lessons for reinforcing concepts, examining practical applications, and exploring case studies of HR in action.
The types of content vary, from long-form podcast interviews with industry experts to short-form explanations of key concepts and laws that apply to exam preparation. In addition, several hours of bonus content from other podcasts has been added at no additional charge to help add valuable context to areas like recruiting, diversity, employee engagement, and more.
Additionally, students in the course can request additional content coverage for areas they need more help in. For instance, one student needed information on how to understand reliability and validity in pre-employment testing design, so I recorded a special lesson to help her and added it to the course to help others. Here is an example of one of the lessons from the course.
What is the format?
The course includes mp3 audio files so listeners can learn anywhere. Users can stream the files directly from the web or from their mobile device using SoundCloud or can download the audio pack to their computer or mobile device via Dropbox to play locally without streaming. The mp3 files include lifetime access in the event you need to put off your studies, need to come back later to refresh, or just want to use them for recertification credits after you pass your exam.
What is the price? 
The prices are $67 for the standalone audio course or $147 for the discount bundled with the SPHR self study course.
If you have questions, please contact me at ben@upstarthr.com and I'll be glad to answer them. I'm excited about the next evolution of certification preparation support here at upstartHR, where we've been helping hundreds of HR professionals like you with certification for more than seven years.