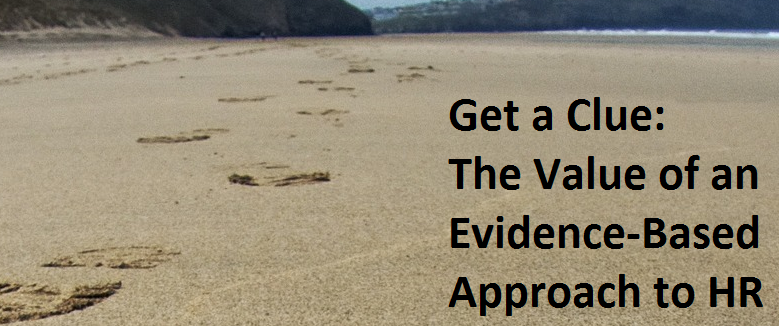 Last week I had the pleasure of presenting a workshop based on metrics, evidence-based HR, and change management. The session was a lot of fun, because we were able to tie the three topics together in a variety of ways to help reiterate not only why each of them matters, but how each of them can really build value when used in conjunction with one another. HR is often using anecdotal information (if any at all), conjecture, and pure hope to make decisions, but we can do better. Today I want to go a little deeper than my post last week on "keeping up with the Joneses," focusing more heavily on the evidence-based HR piece.
Note: We covered a relevant topic recently on the podcast: 3 Examples for Measuring HR's Business Impact.
If you're not familiar with evidence-based HR, here's a primer:
Evidence-based human resources is the practice of identifying solutions and approaches that have a strong empirical basis.
In other words, we don't just use gut instinct, an interesting anecdote, or anyone's opinion to make our point. We use data and other solid evidence to support our decisions at every possible turn. But where does that evidence come from?
Sources for Evidence-Based Decisions
Here is a list of sources I offered the audience as credible options for finding research materials:
Management journals (scholar.google.com)
HBR
SHRM Foundation
Deloitte/Bersin
i4cp
CEB
ATD
CIPD
If you just do a quick Google search for one of these organizations and the topic you need to research, you'll more often than not find something to help make your case. I actually had participants do this during the session, focusing on areas like recognition's impact on productivity (definite linkage), using talent pools for faster hiring (no data we could find), and other relevant HR activities.
Be careful not to just grab a story of a company that is doing neat things and grabbing headlines, because that's not enough to warrant good evidence. You want to find information from a study or some other data-backed approach that helps to lend credibility to your eventual decision. If it's just a neat anecdote, then you're really not improving the process any more than just making a decision based on gut instinct.
Making an Evidence-Based HR Decision
There are six key steps to making an evidence-based decision in the workplace.
Asking: translating a practical issue or problem into an answerable question
Acquiring: systematically searching for and retrieving the evidence
Appraising: critically judging the trustworthiness and relevance of the evidence
Aggregating: weighing and pulling together the evidence
Applying: incorporating the evidence into the decision-making process
Assessing: evaluating the outcome of the decision taken
Using this approach can help you to not only leverage evidence, but think critically about how valuable the evidence might be relative to other sources of data and information about your problem. Instead of going with the normal approach of "Bob said this worked at his last company," we can use more credible sources of information to frame and resolve the issue.
Examples of Evidence-Based HR
Seeing this practice in action is the most powerful way to really "get" the value it can offer. I originally was turned off by the idea of having to research everything HR does on a daily basis, but in reality we make relatively few key decisions like those an evidence-based approach to HR would help with. For instance, New York spent more than $75 million on teachers to help increase student performance and teacher satisfaction. The result? No improvement. There is already data available that could have shown that this kind of approach has not yet been proven to deliver strong results (this examination of multiple studies still came away inconclusive, or "cautiously optimistic," calling for additional research). Despite the lack of evidence, someone went ahead with the program anyway.
Here are a few examples of how it works in practice.
Selection Techniques-Your hiring managers are often used to creating high pressure interview situations to "see how candidates will respond." They also like using tools like application data and GPA to filter out candidates. You find research that demonstrates the validity of their methods is in some cases no better than performing a coin flip to make a hiring decision, helping to sway them into using more structured methods and assessments for hiring decisions.
Employee Recognition-One of your managers is resistant to using recognition because "everyone can't get a trophy" and she doesn't want to "coddle" her workers. You find some existing research that points to the value of recognition not just in increasing worker satisfaction, but in increasing productivity as well, helping the manager to see the benefit to her and the team by improving her recognition skills and practices.
Performance Management-One of the trends in the US is "disposing" of the traditional approach and taking a different avenue for rating and assessing performance. You want to make this move with your company because you feel like your existing process is not adding organizational value. There isn't much data, if any, available to support the different approach, but there is some data showing that collaborative environments support better teamwork and cultures than those focused on forced ranking and distribution of employees.
Leveraging research can drive immense value across the board, even for organizations outside the private sector. For instance, the Warner Robins Air Logistics Center, which repairs military aircraft for the US Air Force, used new research methods to speed repair processes for C-5 aircraft, allowing reductions in working capital of approximately $50 million (source: Deloitte).
While many of us aren't working hands-on with aircraft, we still have the company's largest budget item, its people, under our purview. Isn't it time we started treating them like the valuable assets they are, managing them to the best of our abilities with the most relevant research and information available?