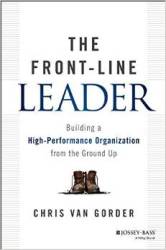 Recently I read The Front Line Leader by Chris Van Gorder while I was on a flight. Usually when I'm flying I take something fun/entertaining to keep my attention, but I needed to knock down my review pile so I grabbed this one.
I'm so glad I did.
I read it from cover to cover and made dozens of notes as I did. In short: this book is one of the best and most interesting that I have read in several years. It highlights Chris' role as the CEO of Scripps Health Network and how he leads the organization, some of the practices they use, and loads of other interesting things about this innovative organization. Get your own copy.
The Front Line Leader Video Review
(email subscribers click through to view the video)Â 
20 other notes from the book
In order as I ran across them in the book, here are some of my notes. Many of these will become future blog posts! Which ones hit home for you?
Managing on the front lines is not easy. Many executives try to avoid their front line workers and this is one of those reasons.
The "executive fly by" doesn't show your employees that you care–it reminds them how often you DON'T care. Be authentic or quit this fake stuff.
Real leaders get dirty. Roll up your sleeves once in a while and jump in with the staff to accomplish something.
Be accessible. Chris shares market news with the organization as a way to keep them abreast of information and to maintain his link with the staff.
Puncture the CEO bubble.
Be friendly with staff, but don't be friends. There's a difference.
Highlight the elephant in the room, don't let it hide.
Engage your people in the bigger picture. It pays off.
Tell personal stories that resonate with specific audiences. It's more powerful and memorable.
Managers should realize that it's their job to advocate for their people. Create a culture of advocacy.
An open door policy is not an invitation to passivity. You still have to get out there and talk with your people.
If you won't stand up for your people, you're not a real leader.
What if you had a commitment to help employees to reskill and find other positions instead of offering a termination letter and an apology? How would that change the exit relationship?
People ask for authority and responsibility but not accountability. Help them understand that it's intertwined with the other pieces.
If the penalties of poor performance extend down and hurt all levels of employees, why not the benefits of good performance for the company? Reward people of all levels if the company is doing well.
Use rewards to drive cultural behaviors and changes.
Command and control is quick and painful. Collaboration is slow but sticky.
Knowledge is power, especially when it's shared freely.
Structure doesn't bring results–people bring results when they have good structures/systems in place.
Have internal thought leaders that are driving employees to think and do things differently.
Which of these did you like best? Again, be sure to get your own copy of The Front Line Leader  if this sounds like a book you would enjoy.