A few weeks ago a friend recommended a book called Under Our Skin: Getting Real About Race and Getting Free From the Fears and Frustrations that Divide Us. It is an excellent book for anyone to read to better understand the different perspectives that are wrapped up in the racial discussion, but I would say it's doubly so for HR and business leaders that need to be working continuously to create more equitable work environments.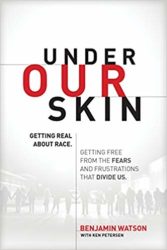 Personally, it has opened my eyes to other perspectives and helps to give context to the conversations I am having with leaders that are trying to create more inclusive workplaces.
The book is written by Benjamin Watson. For some of you sports fans, you will recognize that name immediately, but as a self-proclaimed "sports agnostic" person, I learned of Watson's sports affiliation only after digging into the book. That said, this is not a sports book. It's a book about work and life.
Why I Recommend It
Watson tells stories, offers examples of both sides of each issue, and helps readers understand the realities of living in an unequal world. Continue reading →