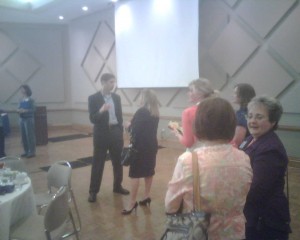 Okay, so I may have made up the name for the HR Capitalist Challenge (HRCC), but I didn't make up the idea. Kris Dunn wrote a post last week about having passion for what you do. Like KD, I firmly believe that being passionate about what you do will put you ahead of so many others.
Pause: If you don't know who Kris Dunn is, then you might want to check out his site linked above. He's a pretty cool guy. The photo you see here is from when he came to my local SHRM chapter and spoke about using social media as a business professional. You can see from the line that he was pretty popular.
So what's the HRCC, the thrill-inducing topic of this post? In his article, Kris talked about three questions that really show what your passion looks like. I'm going to answer the questions for myself. I'm also forwarding the challenge onto the rest of you.

You know when someone says, "you," and you think they're talking to the guy next to you? Well, this isn't one of those times. I'm looking for a response from you!
The HR Capitalist Challenge
How do you stay up to date in your field outside of work? (looking for a real thirst for cutting edge material without regard to the time that it takes..)
I conduct research on a daily basis to help me as a writer, I attend events at my local SHRM chapter, and I stay active in social media to funnel in multiple news feeds. When I'm not working, I'm almost always reading, researching, or writing.
How have you used what you learn outside of work to get better at what you do for a living? (always nice to see someone put the "book learning" to work in their job to stand out from the crowd)
The research and news that I gather helps to spur ideas that I can use to better my organization. Whether I'm reading about essentials for a mentoring program or researching ways to motivate our team, there's a secondary use for almost everything I learn. Some of the projects I take on at work were guided by something I read previously (so the process starts with research and ends up as a project), and other projects turn out the other way (it starts with a project idea and takes me into different areas of research).
Tell me the biggest project you've chased and delivered on related to your career outside of work? (looking not only for the candidate seeking knowledge outside of work, but projects that show an entrepreneurial streak).
In the past year, I've started two blogs, co-created an HR conference, and written an eBook. Each of those things has been solely targeted toward the HR niche and has helped who knows how many people to be better at what they do.
If just one person learns how to use social media in their department or uses the guide I wrote to help them become certified and hold a little more credibility within their organization, then all of the work I've put into these items was worth the effort.
I'm still relatively new to this HR "thing." My enthusiasm is one of the things that really sets me apart, and I plan to keep the ball rolling with upcoming projects.
The topic of energy and excitement also showed up in another post I read this week. Look at the fourth item in his list. I try to bring that energy right to you every time we interact.
What about you? I'd like to hear your responses to the challenge. Are you doing something to show your passion outside of work? If not, do you have a good reason for that?