If you haven't heard, HRCI recently came out with some major changes to their learning content structure–the biggest I've seen in the last ten years. Below I outline what you need to know, how to prepare, and a major announcement from me about what we're doing to help you prepare.
Before I jump into the changes, one of the most common questions I'm getting is whether our certification materials help with this NEW exam. I cover this more deeply below, but my most common answer is this: there aren't fundamentally different ways to practice good HR. There's pretty much one way. And changing exam weightings, names, or even throwing in a competing certification (SHRM) doesn't change that, despite the fact that each certifying body tries to make themselves sound unique and different. Our courses and training materials are designed to help HR professionals get their arms around the needs of the business and how HR can align with them, whether in recruiting, learning, performance, or something else.
That said, we ARE making changes to what we offer, and again, I cover that in more detail at the end of this post.
HRCI Changes: The Big Picture
Since SHRM's certification came out a few years ago, HRCI has been looking for a way to differentiate itself in the market. This change is one of those ways it hopes to modernize the exam content and be more competitive. On August 1st, 2018, the new body of knowledge will go into effect. Until that time, you can continue to test using the current body of knowledge and any of the HR certification courses we offer here
[Curious about certification? See: How much can I earn with an HR certification?]
PHR Changes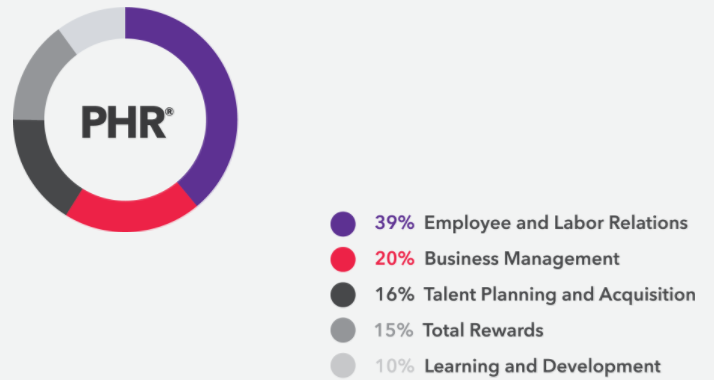 Instead of six sections, the 2018 PHR Exam Content Outline will have five sections with new section names and weightings. The new PHR emphasizes the HR professional's role in business management, and employee and labor relations. Risk management remains important even though the responsibilities will now fall under the employee and labor relations heading. The changes reflect current HR practices and terminology.
Previously the exam focused on six different areas, and now it shifts down to five. In addition to modernizing some of the titles of the sections (for instance, human resources development always has been about learning and development, but now the title actually says that) the weight of each section has shifted around as well. Here's the difference:
SPHR Changes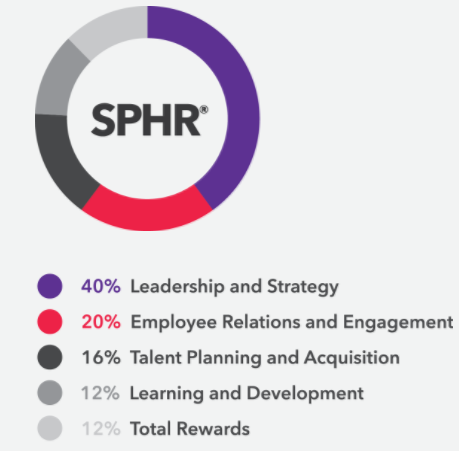 Instead of six sections, the 2018 SPHR Exam Content Outline will have five sections with new section names and weightings. The new SPHR emphasizes the senior HR professional's role in leadership and strategy, as well as employee relations and engagement. Risk management remains important and is found under the employee relations and engagement section. This section also includes employee performance, labor strategies, and diversity and inclusion.
What surprises me most about this transition is that the SPHR seems to be an executive-focused certification more than before. Reducing nearly every category and heavily weighting the content towards leadership and strategy (it got a 30% bump relative to its previous weighting) means this is by far the biggest chunk of exam content. Here's the chart outlining the differences in the content:
If you're planning on taking the exams in the coming year, make sure you keep in mind that anything through the end of July 2018 is using the old exam topics and layout, and anything starting in August will use the new exam topics and content.
Big announcement!
Between now and August I'll be completely overhauling the HR certification materials offered through upstartHR. In the last 10 years of helping people with their exams I've learned some great lessons on what works (and what doesn't). I've built courses to be very flexible, but tools today are available that can make the entire process even more user friendly.
With the need to change the course content to account for these changes from HRCI, this is an opportunity to dramatically revamp the overall slate of offerings, from the courses to the audio content, to really reflect the needs of today's HR leaders. And for those of you considering a SHRM certification, don't feel left out! Lots of students have used the materials to prepare for the SHRM exams because they are situational/practical, not just a bunch of theory like you get with most textbooks (that's the number one reason people fail the exams, if you didn't know). The new version will have some SHRM-specific aspects to align with those competencies highlighted by the SHRM certifications.
Anyone that has previously purchased materials will have an opportunity to upgrade to the new content if needed at minimal cost. However, the cost of all courses will increase when we migrate to the new delivery platform due to the cost of creating and maintaining the course content over time. I'll keep everyone posted in advance of the transition. If you have questions, as always, feel free to reach out to me at ben@upstarthr.com
What are your thoughts on these changes? Do they accurately reflect the realities of HR today?