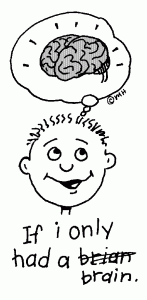 Hey, everyone! I hope you've had a great week so far. I realize that I haven't written in a few days. And by "realize" I mean I'm fairly freaking out due to the fact that I feel like a goof. It's seriously bothering me.
But it's not just because I'm lazy or anything.
I had a 31 mile race last Saturday and I still haven't recovered all the way mentally and physically. However… I have some fantastic ideas and some great stuff on the way. Promise. :-)
So in lieu of having to write something with my brain still scrambled, I'd like to share some links to posts that I've found useful in the past few days.
Lie to Me: Dr. Lightman and HR
You Need a Business Butt Kicking (part 1)
I promise I'll have something semi-intelligent for you soon enough. Don't you worry your pretty little head. :-)