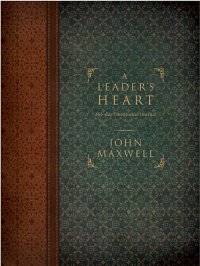 When I ordered A Leader's Heart by John Maxwell to review from BookSneeze, I was really excited. I've heard for some time that John Maxwell is an amazing writer in the leadership space, but I kept putting off reading one of his books (until now). My loss.
He writes well, and A Leader's Heart is full of amazing leadership tenets delivered in bite sized pieces.
I'll go ahead and admit that I haven't finished reading the book. It wouldn't make sense to read it all before reviewing, because it's a devotional. That means you read a short passage every day for a year. The purpose of the devotional format is to continually immerse yourself in a subject to keep yourself focused and on track.
I gave it two weeks, and I've already seen opportunities arise for me to utilize an idea or action I read about in the book. I recommend it for people looking for growth in their leadership skills.
My favorite part so far
I'm still flipping back to read and reread the second page of the book. It's all about how an organization's strength is in direct correlation with the strength of its leaders. Strong leaders=strong organization. Weak leaders=weak organization. While we sometimes get caught up in other things that influence the success or failure of an organization, it's good to revisit the idea that strong leadership can make all the difference in the world.
FYI
If you're offended by mentions of God or Christianity, this ain't the book for you. But if you are a Christian like me or just want a positive, encouraging set of lessons to help you be a better leaer, then this book is worth a look. I also received a free copy to review from BookSneeze, but I reviewed it like I paid for it with my own dinero. It's better that way. :-)
Check out other book reviews here.
A Leaders's Heart: 365 Day Devotional
Reviewed by
Ben Eubanks
on
.
Leading Better Day by Day
This book is actually a daily, one-page guide to being a better leader. It has a Christian/biblical focus, and the content is engaging and valuable..
Rating:
3