I have been thinking a lot lately as I cross the six year threshold of blogging about human resources management. I started this as a tool for the entry level HR pros, but now I also teach about some fairly advanced concepts. One of the things I don't do enough of is sharing about the community. There are more than 20,000 monthly readers on this site and about 5,000 email subscribers (the numbers still boggle my mind!). Who are these people? What do they do?
Let's find out.
Today will start off a series where I talk with some of the HR pros in the audience to find out what they do and what they enjoy about HR. I hope you like the series, and as always, I'd appreciate your feedback. Want to be profiled yourself? Click here.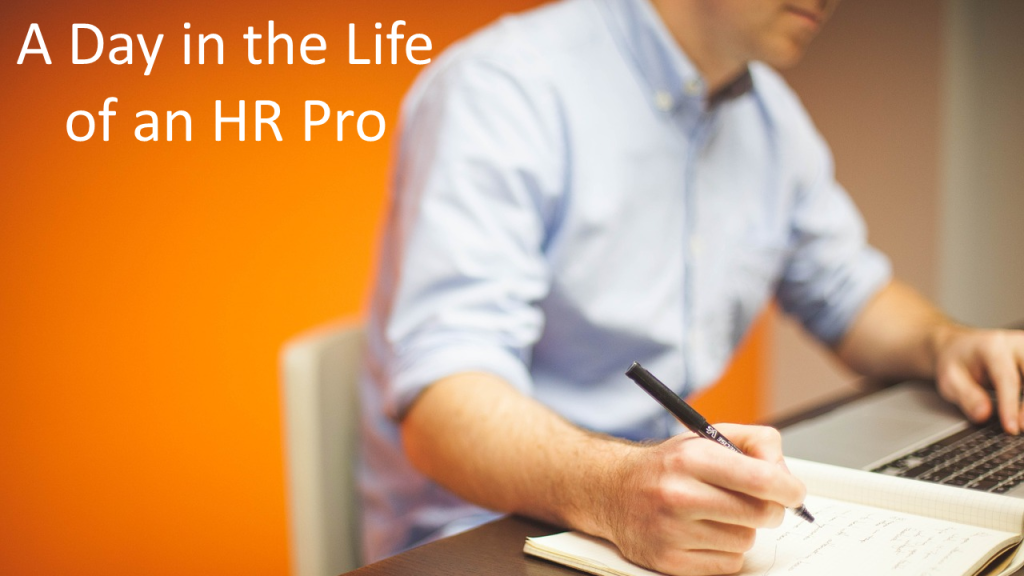 A Day in the Life of a Human Resources Manager
Anne
Company/Industry: Holding Company
Years with Current Company: 4
Years in HR: 10
Degree/Cert: MBA-HR, SPHR, SHRM-SCP
Average Day:Â My average day is a standard Director role. I spend time counseling my team of 26 on how to interact with their companies. I also manage our benefits program.
HR wit/wisdom: Expect each day to be different. I've seen too many young, promising, talented professionals burn out too quickly because they couldn't adapt to the constant changing chaos that is Human Resources.
Juanita
Company/Industry: Banking (Credit Union)
Years with Current Company: 5
Years in HR: 10
Degree/Cert: Master's in HR and Organizational Management
Average Day:Â A typical day in the life of … well me, would be one that involves A LOT of talking and interacting with my peers. I feel that when you build a bond with employees, they will come to you with anything and also help you connect with the person your looking. A quarter of my day is spent in meetings brainstorming the next best thing and finally, the rest of my day is spent finding new ways to energize our organization through our new amazing wellness program (that I control … mwahahaha).
HR wit/wisdom: I have two!  "I don't fire you, you fire you." and "Yes. Doing your job is part of your job."
Bobbi
Company/Industry: Government Contractor
Years with Current Company: 5
Years in HR: 7
Degree/Cert:Â BS in HR, SPHR and SHRM-SCP
Average Day:Â No two days are the same. I spend part of each day working in benefits, compliance, HRIS implementation and employee management.
HR wit/wisdom: Network often, so when the auditor knocks on the door, the manager wants across the board terminations, or the employee decides to tell everyone about his weekend exorcism you have a group of people on speed dial to ask questions to and to share with – we can't do it alone!
Ryan
Company/Industry: WebLinc
Years with Current Company: ~2
Years in HR: 5
Degree/Cert:Â B.S. Industrial/Organizational Psychology, PHR
Average Day:Â I largely spend my time recruiting, or actives related to our recruiting efforts. Next would be employee relations, internal resourcing, and org management. Beyond that it gets chopped up quite a bit day to day, I am a one man army in HR here :)
HR wit/wisdom:Â As an HR professional, my advice to anyone is to never forget how much rules suck.
Leeanne
Company/Industry: Freight Forwarding
Years with Current Company: 2
Years in HR: 6
Degree/Cert: Graduate Diploma in HR
Average Day:Â I am the only person in HR in my organisation, which has 370 staff, therefore a majority of what I do is reactive simply due to the volume of work. I recruit without agencies whenever possible so can end up spending a lot of time reading CV's when I have multiple roles to fill. I interact with our company directors and managers on a daily basis, although it's usually the same 4-5 managers due to the size and nature of their teams. I am involved in all performance and disciplinary meetings along with the manager. At least once a week I am told by someone that they don't envy me in my role, but I honestly love it, and can't see myself doing anything else for a long time to come yet!
HR wit/wisdom:Â Be the reason people want to get into HR, not the reason they hate it.
Coming up soon we'll have other HR roles and responsibilities, but I appreciate the participants for sharing! Let me know in the comments below what you think about this.