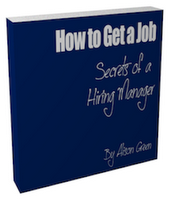 It seems like just yesterday that I reached out to Alison Green, author of the amazing Ask a Manager career advice blog, to see if she would be interested in writing an eBook to help job seekers. Today, that dream is a reality!
What it touches on
how to stop sabotaging your job search
how to avoid the companies that aren't a good fit
how to craft a resume and cover letter that will catch a hiring manager's eye
how to answer the most common interview questions
how to talk about sensitive issues when you interview — firings, bad bosses, "overqualification," and more
the secret to handling rejection
My fave part
Even with all those cool features above, my favorite part is still the section on questions to ask your own interviewer. It's been something I've always been interested in, and I love hearing the questions that a hiring manager wants to hear from job seekers.
What you need to do
Order now, even if you have a great job. Why? Well, first you'll get it for the super low price (it goes up in just 48 hours!). And second, when you're ready to move on to another job (there's always another job), you'll have this handy dandy guide to help you get through the transition.
Click here to get the How to Get a Job: Secrets of a Hiring Manager