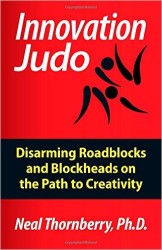 I've been reading like crazy lately and have had trouble keeping up with my reviews. Usually it's even worse: I have no time to read all the books and they just pile up around me. This time around I picked up Innovation Judo: Disarming Roadblocks and Blockheads on the Path to Creativity by Neal Thornberry, PhD (Amazon). I'm a sucker for innovation-focused stuff, and this was definitely a great read on that front. A few good pieces I pulled from the book:
Incentives: Want to encourage innovation? Make sure your incentive pay aligns with what you're trying to promote. Rewarding someone with a movie ticket when they saved the company $10,000 isn't going to promote additional innovations (or it better be the most awesome movie ever).
NIH is poisonous: The "not invented here" mentality that many organizations espouse is a dangerous one. It ultimately leads to more silos and less innovation. Procter & Gamble used to be very closed off, and the book talks about how the business was losing millions of dollars annually due to that sentiment. Now it requires 50% of new ideas to come from outside the company, and it wants to increase it to 80%. That's a powerful shift and a reason why the company still stands strong year after year.
Wackiness: We run into this all the time. People make decisions that make no rational sense and ultimately end up breaking something or causing more work. That can even be the CEO in some cases. Thornberry talks about how nobody wants to tell CEO they are making bad decisions. The good thing is that in the end it usually falls to HR, which can be an opportunity to improve the value of the CEO-HR relationship.
Bottom line
Innovation is about more than sitting in a room "brainstorming" ideas like "we should use less paper in our new hire applications" or "maybe we could print front and back to save money on costs." It can be a serious differentiator between you and the competition. If you are looking to improve the quality and quantity of innovation your organization is producing, I'd encourage you to check out Innovation Judo by Neal Thornberry, PhD. Get your copy here.