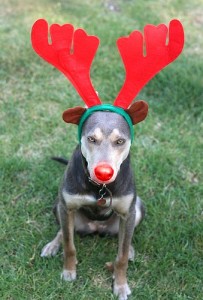 I'm pretty good friends with Steve at HR Gumbo. We talked about this a good bit before we both posted. You might like to read his post on regulating holidays to make sure you get the "whole" story.
I'm definitely one of those people who gets angry when their company tells them how they can and cannot celebrate the approaching holiday. My last job was like that. My current one isn't. I work in a radically different culture from a public institution. I'm in the far extreme side of the spectrum. The nonprofit organization that I work for is technically classified as a church, if that gives you any indication. But if someone brought in something representing another holiday, I can't see us bashing their head in for it.
Christmas

decorations rant

Yes, I used the C word. One of my friends recently forwarded a holiday decoration policy for his company that made me want to punch something. I celebrate Christmas along with most of the known world. It is a time for happiness, good cheer, and helping your fellow man. If you aren't up to that challenge, go jump off a bridge (the 5-1/2 minute mark). I'm not throwing out my fun and happiness because you don't want to celebrate. If I walk up to you and point blank wish you a "merry Christmas," please don't freak out. I'm trying to include you in this time of good cheer and friendship. It's really no different from wishing you a good morning when it comes down to it. I could always just say "up yours," but that doesn't have the same ring to it, you know?

To answer Steve's question, my organization is relaxed enough to let me have a 3-foot tree with garish, blinking lights. You better believe that sucker lights up my half of the building from 7am until 4pm. But like I mentioned earlier, it's about the culture, really. And if we have anything, it's oodles of culture.

What about you? Am I off my rocker, or is this something that annoys the crap out of you, too?

Photo by aussiegall.